Russia: Historic 30-yr gas deal with China set to be signed next week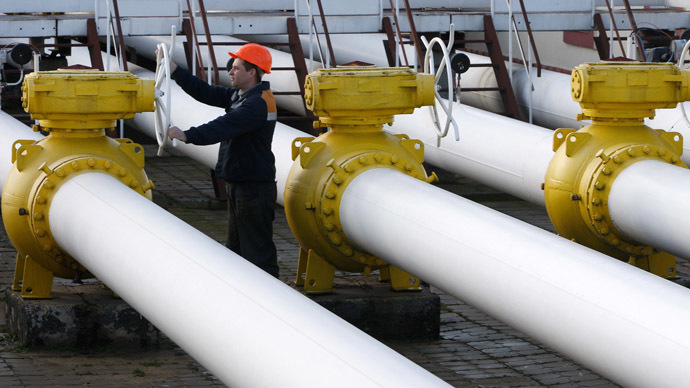 A historic, long-term deal for the delivery of Russian gas to China that has been 10 years in the making is 98 percent ready, Russia's Deputy Energy Minister Anatoly Yanovsky has said. All that's needed are the two countries' signatures, he added.
"We hope that the negotiations will be completed as scheduled," Reuters quoted Yanovsky as saying.
Russian President Vladimir Putin is due in the Chinese capital next week where the nations are widely expected to sign the deal. The contract's been in the making for the last 10 years and in March 2013 resulted in signing of a delivery memorandum between Russia's Gazprom and China's CNPC. The terms of the pipeline delivery contract outline Russia's intention to supply China with 38 billion cubic meters of gas per annum for 30 years, starting in 2018.
Yanovsky said that energy projects, such as oil or gas pipelines, are still new to the Russia-China relationship and that's why they need a very careful and balanced research and approach.
"Talks regarding the development of the Far East and Siberia in terms of sales of raw materials eastward have never been held before. However, now our dialogue includes issues such as mining and the transportation of hydrocarbons," Yanovksy said.
At the beginning of 2013, the CEO of Russia's energy giant Gazprom, Aleksey Miller, said that the figure of 38 billion cubic meters of gas per year could rise to 60 bcm over the duration of the contract. The price of Russian gas for China is yet to be announced. However an April 10 article in Russia's business daily Vedomosti suggested the sides are negotiating within the range of $360-$400 per 1,000 cubic meters.
China is Russia's biggest trading partner outside the EU. Both countries expect bilateral trade to reach $100 billion by 2015 and $200 billion by 2020. The energy sector is arguably the most attractive at this stage as China attempts to close coal-fired power stations and raise natural gas consumption by 11 percent this year, according to a CNPC Economics and Technology Research Institute report.
You can share this story on social media: