Russia's third largest bank moves money from Europe to Moscow for safe keeping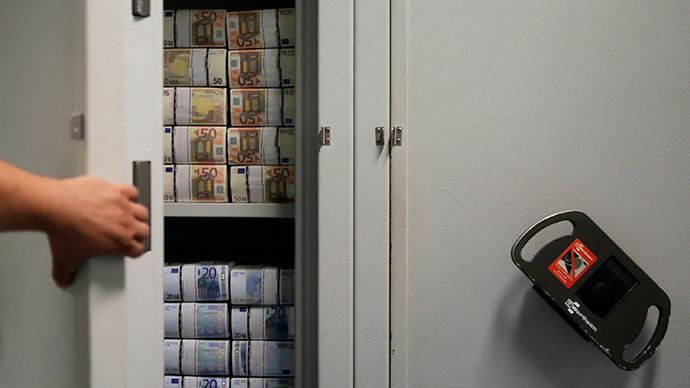 Gazprombank transferred client funds from Belgium and Luxembourg back to home turf, to protect against any future sanctions.
The securities were moved from Euroclear Bank (Brussels) and Clearstream Banking (Luxembourg) to the Russian Central Depository at the end of April.
The move is intended to protect customers from any forthcoming sanctions and prevent a situation where clients' funds are frozen, the statement on the website said.
"The transfer was done to prevent possible restrictions on transactions of customers' assets that are kept in international deposits and settlement systems," it stated. In preparation for sanctions, in March, the bank moved nearly $7 billion to Russia's Central Bank for safe keeping.
Russia's Central Bank held $486 billion in international reserves as of April 1 this year, $40 billion less than one year earlier, when holdings stood at about $528 billion.
The last round of US sanctions included 17 companies, but didn't target Gazprombank or Vnesheconombank (VEB), both state-owned lending institutions. In March, the US imposed sanctions on Bank Rossiya and its owner, Yury Kovalchuk - both have stakes in Gazprom subsidiaries.
The bank's total assets are $110.5 billion (3.9 trillion rubles) according to RIA bank ratings. The bank is 49.6 percent owned by a Gazprom-affiliated pension fund, Gazfond, 35.5 percent owned by Gazprom OAO, and 10.2 percent owned by VEB, Russia's state development bank.
Bank customers will still be able to make transactions with other securities that were previously stored in the European banks.
Gazprombank is chaired by Aleksey Miller, the CEO of Gazprom. Igor Sechin, the head of Rosneft, Russia's other major state-owned oil company, was included on the previous sanctions list. Miller was not.
Many US politicians have advocated placing both Gazprom and Rosneft under sanctions, in order to strike at the heart of the Russian economy – its energy.
You can share this story on social media: