Bank of America's $4 billion slip-up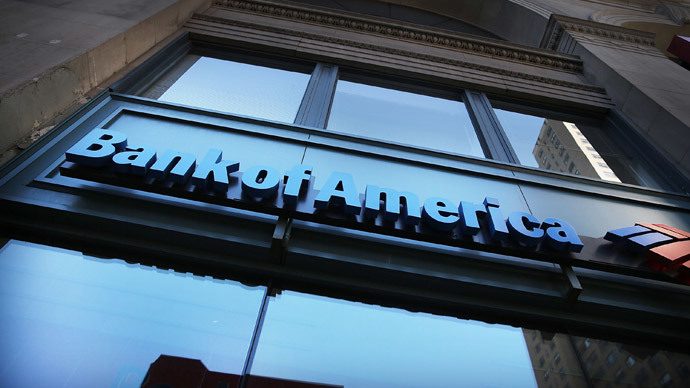 America's biggest bank discovered a $4 billion accounting error on Monday, and is suspending its share buyback program and planned quarterly dividend. The mistake went unnoticed for several years and brings into question how 'healthy' Bank of America is.
After reporting the miscalculation to the Federal Reserve, Bank of America will also have to re-do its stress tests, to ensure it isn't "too big" and has sufficient capital reserves, the New York Times reports.
Stocks have fallen 6.27 percent on the news, the most since November 2012. Shares tumbled to $14.95 by market close in New York on Monday, erasing all of the 2014 gains.
The error was sourced to Merrill Lynch, where lower-level employees botched the numbers they submit to the financial authorities for a quarterly securities filing. The gaffe also went undiscovered by the bank's board of directors as well as PricewaterhouseCoopers, its external auditor. The US Federal Reserve also missed the blunder.
Stress tests, called Comprehensive Capital Analysis and Review, are a way for the US Federal Reserve to assess whether financial intuitions have adequate capital. The protocol is part of the Dodd-Frank Act, which seeks to avoid a repeat of the 2008 collapse with precautionary regulations.
In March Bank of America passed its Federal Reserve stress test even though it provided faulty information. Citigroup Inc. was one of five banks that failed the test. According to Bank of America's first quarter earnings report, it has $134 billion in Tier 1 capital, which has now been reduced to $130 billion.
"Bank of America must address the quantitative errors in its regulatory capital calculations as part of the resubmission and must undertake a review of its regulatory capital reporting to help ensure there are no further errors," the US Federal Reserve said in a statement.
Bank of America scooped up Merrill Lynch, also a Wall Street investment giant, in January 2009 in the aftermath of the 2008 American financial crisis. Bank of America has been led by Brian Moynihan since 2010, who has been tasked with sorting out liabilities inherited from the acquisition.
In the first 3 months of 2013, the company reported a $276 billion deficit, the first quarterly loss under Moynihan's tenure as CEO.
Bank of America has gained a bad reputation over its sloppy, and even sometimes illegal cooperate practices. In March, the bank was ordered to pay $9.5 billion to the Federal Housing Finance Agency to resolve allegations that it misled investors over the quality of mortgage loan sales.