US Fed forces foreign banks to equal account ahead of next crisis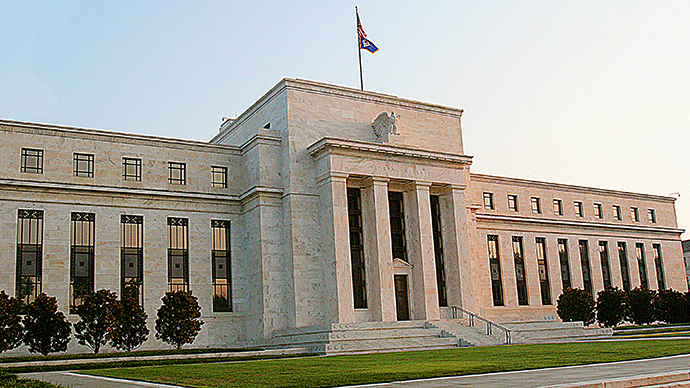 The Federal Reserve has tightened the rules for foreign banks operating in the US, forcing them to hold higher reserves to make them responsible for losses and provide extra solvency in case of another crisis.
Foreign lenders holding $50 billion in US assets will have to establish a subsidiary that will also need to follow the same risk management and liquidity standards as the biggest national banks do. The Federal Reserve extended the deadline by which foreign banks must comply and meet all the requirements, until July 2016, one year later than originally proposed.
The Fed board approved the decision by a 5 - 0 vote.
The move should "help address the sources of vulnerability" revealed by the crisis, the new chair of the Fed Janet Yellen said.
Before the financial crisis broke in 2008, foreign banks moved from a traditional lending to broker-dealing, where they borrowed dollars in short–term money markets and sold it abroad.
However, the crisis made vulnerable all the lenders equally regardless of the operations they had been involved in, which made foreign players "disproportionate users" of the emergency lending facilities established by the Fed, as USA Today quotes Fed Governor Daniel Tarullo.
Major foreign players on Wall Street like Deutsche Bank and Barclays, had pushed back against the Fed's decision. The new law will squeeze their lending, and raise costs of doing business as lenders will need to transfer costly capital from Europe.
However Sally Miller, the CEO of the Institute of International Bankers in New York, who considers the new Fed rules beneficial to the economy, still thinks that the restrictions were too onerous.
"We continue to have a fundamental disagreement with the Fed about the appropriateness and necessity of applying an extra layer of US bank capital requirements," as USA today quotes Mrs Miller.
The Fed was ordered to toughen its regulations for large banks that could threaten the entire financial system under the Dodd-Frank Act that Congress passed in 2010 in response to the financial crisis.
You can share this story on social media: