US lawmakers strike $1 trillion budget deal to avert shutdown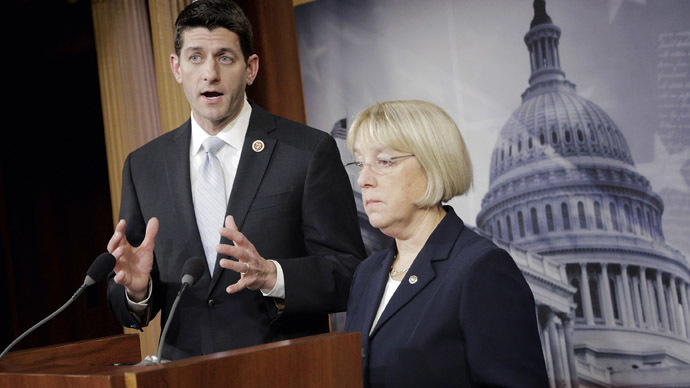 The threat of another painful US government shutdown is fading away, as Democrats and Republicans have agreed a $1.01 trillion spending limit by 2015. The news is putting global markets at ease, and investors are waiting for an end to easy Fed money.
The bi-partisan budget which President Obama said is a 'good first step', will increase budget spending by $63 billion in 2014 and 2015 and cut $23 billion off the budget deficit over 10 years without hiking taxes.
Over the next two years, the $63 billion will help offset March's sequestration cuts, which are automatic cuts that reduce the budget deficit and are heavy-handed on defense spending. The government will compensate for the spending increase by lifting airline passenger fees, and requiring higher contributions to federal pensions.
If sequestration cuts were re-approved, discretionary spending would be capped at $967 billion in 2014, with $520.5 billion allocated to defense spending, and $491.8 billion for non-defense spending.
The budget is a compromise for the Democrats, as spending over the next two fiscal years will be over $1 trillion, however, it doesn't increase the US debt limit.
Republican leaders Eric Cantor and House Speaker John Boehner support the proposal, but it needs to be approved by Congress before it comes into effect.
When the plan is approved, it will avert government shutdowns in mid-January and again in October 2014.
Opposition is expected to come from Republicans like Marc Rubio, who gathered a large enough coalition to force the government into a shutdown over de-funding the 'Obamacare' health program.
The two-year budget agreement will hopefully usher in a new era of cooperation in Congress, which has been viciously divided over raising the debt ceiling to fund the budget.
Taper time?
The new era of calm set forth by the budget has raised investors' hopes that the US Federal Reserve will begin to taper its $85 billion per month bond purchases, which have helped stabilize financial markets following the 2008-2009 crisis.
A scale-back is expected under the new tenure of Janet Yellen, who will take over the reigns as the Central Bank Chair in February.
Economists are split on whether the 'easy money' has outlived its usefulness or if America's economy truly still needs this financial lifeline.
Fed policy makers meet December 17-18 for their regular meeting when quantitative easing will once again be on the agenda. If the "in the coming months" statement, made by Ben Bernanke last May is finally fulfilled, policymakers will start minor scaling of the bond-buying program.
You can share this story on social media: