French troops begin exit from Niger
The first convoy departed Niamey under a local security escort in the direction of Chad, according to the African nation's new rulers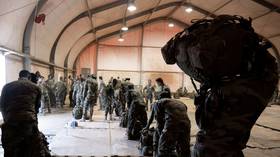 France has begun withdrawing soldiers from its bases in Niger, with three flights carrying French special forces personnel and equipment leaving Niamey on Tuesday, according to the West African country's new authorities.
Two of the flights transported "97 special forces elements," while the third was "dedicated to logistics," the recently installed military government claimed in a statement published by state media on Tuesday.
In addition to the departures by air, the authorities stated that the first land convoy of troops in Ouallam, a town in southwestern Niger, had left "towards Chad under escort" of the Nigerien Defense and Security Forces.
According to the coup leaders, the disengagement will continue in line with a joint France-Niger withdrawal plan, which includes a commitment for the local military to provide security assistance to French convoys departing by land.
The exit comes after weeks of tension between Paris and the new rulers who came to power in the former French colony following the July 26 coup that ousted President Mohamed Bazoum. Days after taking the reins, the coup leaders demanded that France withdraw its 1,500 troops from the country and announced the suspension of military cooperation agreements with Paris, citing "external interference."
Last week, the French Ministry of the Armed Forces announced that Paris would begin withdrawing troops from Niger on the directive of President Emmanuel Macron. Macron, who had previously rejected pressure from what claimed were "illegitimate" military rulers, agreed in September to end military cooperation with the African country. He confirmed that the French troops would leave Niamey "by the end of the year."
French troops have also been expelled from Mali and Burkina Faso, both of which are under military rule, in response to widespread dissatisfaction with a decade-long counter-insurgency mission in the Sahel region.
While France has not formally confirmed the claims of the Nigerien authorities that its forces were being transferred to Chad – a distance of over 1,000km separates the Chadian capital of N'Djamena from Niamey – Paris already has a presence of around 1,000 troops in the country.
Meanwhile, political analyst Evariste N'Garlem Tolde recently told RT that Chad, where anti-French sentiment is on the rise, does not need the French army to ensure its security.
You can share this story on social media: