NATO created conditions for Libyan flooding disaster – expert
The country is still reeling from the military bloc's intervention more than a decade ago, Abdewanees Ashoor told RT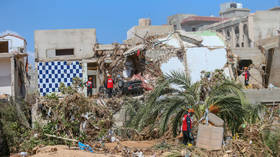 Major flooding destroyed dams in Libya last month because the country is still suffering from a lack of infrastructure funding after NATO's military campaign more than a decade ago, hydrologist Abdewanees Ashoor has told RT.
Two dams in the Libyan city of Derna experienced catastrophic failures on the night of September 10-11 as a result of Storm Daniel. The deluge wiped out entire residential areas, and the Red Crescent has estimated that at least 11,000 people died and an additional 10,000 are still missing as a result of the disaster.
Speaking to RT on Tuesday, hydrologist Ashoor suggested that the damage wrought by NATO's intervention in the North African country in 2011 was a factor in the tragedy.
"In the early days of the revolution in Libya, everyone celebrated the NATO intervention as people rose against the Gaddafi regime and demanded his removal. However, later we discovered that the country was engulfed by chaos," Ashoor said. "After this intervention, they [NATO] were unable to bring the country to a state of stability."
The expert believes that weak leadership, in addition to financial corruption – especially regarding funds allocated for dam repairs – led to the collapses. According to Ashoor, "there is lack of maintenance" in Libya and there have been "numerous reports in the past warning about [this]."
"The poor condition of these dams, coupled with the possibility of major floods, could inevitably lead to a collapse of the dams. All these assessments, along with evaluations conducted by previous companies and experts, indicated that such a disaster would occur," Ashoor added.
Following the disaster, rescue teams and aid were sent by neighboring Egypt, Algeria, and Tunisia, as well as Türkiye, Italy, Malta, the United Arab Emirates, Germany, and the UK. The Russian Emergencies Ministry (EMERCOM) has deployed specialist teams to assist with search and rescue efforts.
You can share this story on social media: