Ex-ICC official allegedly funded illegal army
The Lord's Resistance Army has long been accused of human rights violations in Uganda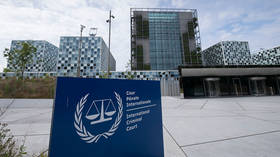 The Ugandan government is investigating allegations that a former senior International Criminal Court (ICC) official financed the Lord's Resistance Army (LRA), which is known for its human rights violations, the country's attorney general, Kiryowa Kiwanuka, said on Monday.
"We have received information about the alleged involvement of the named ICC official in funding the LRA activities, including money to buy weapons, and our relevant bodies are investigating the claims," Kiwanuka said.
If the allegations that the official funded Joseph Kony, the leader of the LRA in Uganda, are found to be true, she "will be prosecuted to ensure justice for the victims," the attorney general added.
Between 2006 and 2017, Brigid Inder is accused of funding the LRA both personally and through intermediaries. She held the position of special gender adviser to former ICC prosecutor Fatou Bensouda from 2012 to 2016.
Inder denied the allegations in a statement posted on X (formerly Twitter) on September 21, calling them "sensational and untrue."
"I have never engaged in any activities that were intended to support the military aspirations and conflict-related activities of the LRA," she added.
In northern Uganda, the LRA is a notorious extremist group that has been accused of human rights violations, which include mass murder, sexual slavery, abductions, and recruiting child soldiers.
More than three decades ago, Kony started a bloody rebellion in northern Uganda, unleashing a terrorist campaign that spread to multiple countries, resulting in the deaths of over 100,000 people and the abduction of 60,000 children.
An arrest warrant for Kony was issued by the ICC in The Hague in 2005 due to allegations of war crimes and crimes against humanity.
Speaking to RT on Wednesday, Ugandan lawyer and investigative journalist Dr. David Matsanga said that "the ICC is compromised … controlled by states that are not member states."
You can share this story on social media: