UAE lifts visa ban on African nation
Nigeria and the UAE have agreed to allow Etihad and Emirates Airlines resume flights between Abu Dhabi and Abuja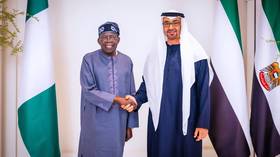 The United Arab Emirates has lifted a visa ban imposed on Nigerian travelers almost a year ago as a result of diplomatic disagreements between the two countries.
The agreement to resume normal relations was reached on Monday following a meeting in Abu Dhabi between Nigerian President Bola Tinubu and his UAE counterpart, Mohamed bin Zayed Al Nahyan.
"By this historic agreement, both Etihad Airlines and Emirates Airlines are to immediately resume flight schedules into and out of Nigeria, without any further delay," Chief Ajuri Ngelale, special adviser to Tinubu, said in a statement.
The UAE stopped issuing visas to Nigerians in October after Emirates Airlines ceased operations in Africa's most populous country, citing an inability to repatriate trapped revenue due to forex problems.
The West African country has withheld at least $743 million in revenue from international carriers operating in Abuja, the International Air Transport Association (IATA) said in March.
Last month, President Tinubu called for an "immediate" and "amicable" resolution to diplomatic tensions with the UAE during a meeting with the Middle East country's ambassador to Nigeria, Salem Saeed Al-Shamsi.
Tinubu said he was prepared to personally intervene in the settlement of the dispute.
The Nigerian presidency announced on Monday that the Emirati president agreed to the "immediate restoration of flight activity" between Abuja and Abu Dhabi via Etihad Airlines and Emirates Airlines without "any immediate payment by the Nigerian government."
Festus Keyamo, Nigeria's minister of aviation and aerospace development, who was part of the delegation that visited Abu Dhabi, commended Tinubu for resolving the diplomatic standoff with the UAE.
"Special thanks to President Bola Ahmed Tinubu for personally leading our delegation to end this impasse with the UAE. All credit goes to him. His Midas touch during the discussion was crucial. He just made my job easier," the minister posted on X (formerly Twitter).
You can share this story on social media: