Nigerian leader orders urgent resolution of issues with UAE
Emirates Airlines suspended flight operations in Abuja last year over its inability to repatriate blocked funds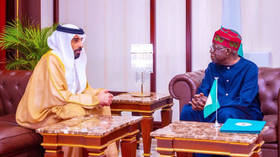 Nigerian President Bola Tinubu on Thursday ordered an immediate resolution to disagreements with the United Arab Emirates, which have affected flights and visa issuance to the African country's nationals.
"We are a family with the UAE... We should look at the issues as a family problem and resolve it amicably," Tinubu said at a meeting with the UAE's ambassador to Nigeria, Salem Saeed Al-Shamsi.
The UAE stopped issuing visas to Nigerians last year after Emirates Airlines suspended operations over an inability to repatriate some $85 million in revenue trapped in the country, resulting from forex restrictions.
Earlier this year, the airline announced that a significant balance of its funds had been frozen in Africa's largest economy and had yet to be repatriated.
The International Air Transport Association (IATA) said in March that Nigeria has withheld at least $743 million in revenue from international carriers operating in the country.
In a statement on Thursday, the Nigerian leader said he is prepared to personally intervene in the dispute.
"We must work together. We need to agree on core aviation and immigration issues," Tinubu stated.
Ambassador Al-Shamsi told the Nigerian president that "these are small issues, all within a family," adding that "they will be resolved."
"Since I arrived in the country, I have been working on 24 agreements. We are getting somewhere," he said.
You can share this story on social media: