Tourists shot dead by Algerian coast guard – media
The French-Moroccan victims were reportedly among four people who got lost exploring the sea near the Moroccan resort of Saidia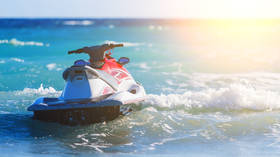 Algerian coastguards shot and killed two jet skiers who had strayed into the country's territorial waters on Tuesday, Le360 news agency reported, citing sources and a survivor of the incident.
The victims, identified as French-Moroccan Bilal Kissi and Abdelali Mechouer, were among a group of four tourists participating in water sports near the Moroccan resort of Saidia, according to the outlet.
Relatives of Kissi said his body was discovered by a local fisherman off the coast of Saidia Bay. The body of Mechouer has not been found and is believed to be on the Algerian side of the border.
Mohamed Kissi, Bilal's older brother, told the media that he had been picked up by the Moroccan Navy and returned to the Saidia marina.
"We got lost, but we continued until we found ourselves in Algeria. We knew we were in Algeria because a black Algerian zodiac came towards us and started to zigzag as if they wanted to overthrow us," Mohamed told the outlet.
"They fired at us," he said, referring to the occupants of the Algiers vessel. "Thank God I wasn't hit, but they killed my brother and my friend. They arrested my other friend," he added.
The Moroccan media outlet Le360 said the Algerian authorities arrested Smail Snabe, a survivor of the incident. He was reportedly brought before a prosecutor on Wednesday and later placed in pre-trial detention at a police station in Port Say.
The French Ministry of Foreign Affairs stated on Friday that its embassies were in contact with the Moroccan and Algerian authorities regarding the death of one of its nationals and the detention of another.
The Algeria-Morocco border has been closed since 1994. In 2021, Algiers severed diplomatic relations with Rabat, accusing it of "hostile acts."
Tensions between the two North African neighbors were exacerbated by Israel's recent recognition of Moroccan sovereignty over the disputed territory of Western Sahara. Algeria, which shares a border with Western Sahara, called Israel's support for Rabat a "flagrant violation" of international law.
You can share this story on social media: