Niger won't work with Wagner Group – PM
The West should nevertheless avoid pushing Niamey toward its enemies, Ali Lamine Zeine has warned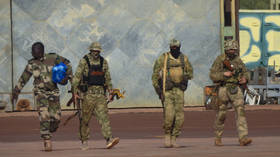 Niger's coup leaders have "no intention" of working with Russian defense contractor Wagner Group PMC, their top civilian official told the New York Times on Friday. Earlier reports suggested that the country's new military leaders had reached out to Wagner amid threats of an invasion.
Ali Lamine Zeine, who was appointed prime minister by the coup leaders earlier this month, said that he had "seen no intention" on the part of the ruling generals to solicit the help of the Wagner Group.
However, Zeine added, "Don't push Nigeriens to go toward partners that you don't want to see here."
Niger's pro-Western president, Mohamed Bazoum, was ousted and detained last month in a coup led by General Abdourahamane Tchiani. The general's men set about shredding trade and military agreements with France – Niger's former colonial master – and, according to the Associated Press, met with Wagner Group representatives in neighboring Mali.
The Wagner Group did not comment on whether the alleged meeting took place, although the PMC's chief, Yevgeny Prigozhin, has spoken favorably of the coup, calling it a "justified rebellion of the people against Western exploitation."
In the US, Secretary of State Antony Blinken declared earlier this month that while the coup "was not orchestrated by Russia or Wagner," Washington believes the Russian contractor will "take advantage of" the unrest to expand its influence in Africa.
Wagner troops have reportedly operated in Mali, Burkina Faso, Sudan, Mozambique, and the Central African Republic in recent years.
Niger is currently facing the prospect of military intervention from the Economic Community of West African States (ECOWAS), a regional bloc led by Nigeria. Although negotiations between Zeine and an ECOWAS delegation took place in Niamey on Saturday, the bloc agreed on Friday to invade Niger on an undisclosed "D-day" if Bazoum's government could not be restored diplomatically.
France has backed ECOWAS' efforts to force the coup leaders out of power, although Paris has not clarified whether it supports a diplomatic or a military solution. Mali and Burkina Faso, both of which came under the control of military governments who expelled French troops last year, have vowed to come to Niger's aid in the event of an invasion.
Although Bazoum has called for US intervention, Washington has stopped short of backing military action. Nor have any American officials referred to the transfer of power in Niamey as a "coup," as to do so would force the US to sever military agreements it had made with Bazoum's government.
Zeine praised Washington's stance as "extremely reasonable," but said that "the moment will come to review" Niger's military pacts with the US.
You can share this story on social media: