US slashes aid to Niger in wake of coup
Programs benefiting the junta government in Niamey will be paused, Washington's top diplomat said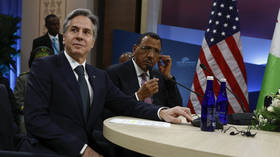 The United States will halt some of its foreign assistance projects in Niger, with the State Department saying such aid depends on "democratic governance" in the African nation following an abrupt transfer of power there last month.
Secretary of State Antony Blinken announced the move on Friday, noting that certain programs "benefiting the government of Niger" would be put on hold as US officials review "the situation on the ground" given the recent bout of unrest.
"As we have made clear since the outset of this situation, the provision of US assistance to the government of Niger depends on democratic governance and respect for constitutional order," Blinken said, reiterating a prior call for "the immediate restoration of Niger's democratically-elected government."
The diplomat went on to say the decision would not affect humanitarian projects and US food assistance to Niger, and that security operations and the protection of American personnel would also continue.
Blinken did not specify which programs would be paused, but according to the US Embassy in Niamey, the Pentagon and State Department alone provided Niger with over $500 million in military gear and training between 2012 and 2021.
Though Washington has yet to describe the situation in Niger as a "coup," it has repeatedly condemned the military junta which removed President Mohamed Bazoum's government from power late last month, demanding he be restored to office. The president was detained in the wake of his ouster, and has described himself as a "hostage" under junta leader Abdourahmane Tchiani.
In an op-ed published by the Washington Post on Thursday, the deposed head of state called for US intervention to "help us restore our constitutional order," arguing that Niger's "potential fall" poses a major threat to the entire region.
While US officials have so far shown little willingness for a direct intervention, Washington currently maintains around 1,000 troops in the African state. Some of Niger's neighbors have prepared their own military options, with the Economic Community of West African States (ECOWAS) saying it had already devised plans to remove the junta by force earlier on Friday.
However, two other countries in the region, Mali and Burkina Faso, have warned against any intervention by ECOWAS, stating it would "amount to a declaration of war" on their respective nations. Both have vowed to withdraw from the bloc and "adopt self-defense measures in support of the armed forces and the people of Niger" in the event of military involvement by the regional collective.
You can share this story on social media: