France and Italy announce evacuation of citizens from Niger
The decision comes amid violent anti-French protests in Niamey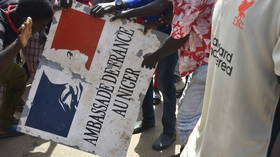 France will begin evacuating its nationals from Niger on Tuesday following the military coup and subsequent attacks on the French embassy in Niamey, the Foreign Ministry in Paris has said.
In a statement on Tuesday, the French authorities also announced that it was helping move citizens of other European countries out of Niger.
The decision is in response to the "situation in Niamey," the ministry explained, adding that the closure of Niger's airspace leaves its "compatriots without the possibility of leaving the country by their own means."
The Italian government also announced on Tuesday that it would repatriate citizens from Niamey.
The government will arrange a "special flight" for the evacuation mission, according to Foreign Minister Antonio Tajani.
Anti-French protests were held outside France's embassy in Niamey on Sunday following last Wednesday's military coup, which saw President Mohamed Bazoum deposed and subsequently detained.
The coup leaders have justified their action as a means of safeguarding the country from a "deteriorating" security situation, as well as "poor economic and social governance."
France, which has 1,500 troops and a drone base in Niger to help fight the country's jihadist insurgency, has condemned the putsch and maintained that it recognizes Bazoum as the only legitimate power in the country.
On Monday, the junta leaders accused Paris of planning a military strike at the presidential palace to free the detained leader.
French Foreign Affairs Minister Catherine Colonna replied that the "accusations that have been made since are false and shocking."
The West African regional bloc ECOWAS denounced the coup and gave the junta a seven-day deadline to reinstate Bazoum. If its demands are not met, the group has threatened to "take all measures necessary to restore constitutional order in the Republic of Niger," including the use of force.
Meanwhile, the military governments in neighboring Mali and Burkina Faso have warned the West and other African countries not to intervene in Niger.
Mali and Burkina Faso said in a joint statement on Monday that any such move would be considered an attack on their respective countries.
"Any military intervention against Niger would amount to a declaration of war against Burkina Faso and Mali," they stated
You can share this story on social media: