More casualties as protesters clash with Kenyan police – media
The country's opposition Azimio Coalition claims police have abducted some of its top officials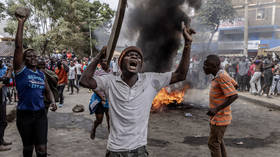 Kenya's opposition began a three-day nationwide anti-government protest on Wednesday, with multiple reports of violent clashes between the demonstrators and police. At least five protesters were injured as they marched against tax hikes and the rising cost of living, according to the Associated Press.
Local authorities told AP that four protesters had been injured in the Mathare area of the capital Nairobi. Another man was injured in the Kibera slums, where Reuters reported earlier that around 100 protesters had thrown rocks at police, who deployed tear gas in response.
Protests also occurred in other parts of the country, including the western counties of Kisumu, Kisii, and Migori, where some roads have been barricaded. Riot police are also said to have used tear gas to disperse protesters who blocked roads and set fires in Nakuru.
According to local media, several shops in the city center have been closed.
The government ordered the closure of all primary and secondary day schools in Nairobi, Mombasa, and Kisumu, citing the threat of attacks during protests.
Two rounds of demonstrations last week left at least 15 people dead in Kenya, according to police. Tear gas was also allegedly thrown inside a school compound, where 53 children were in the vicinity.
The country's president, William Ruto, who defeated Raila Odinga in an election last August, vowed on Friday that the protests planned for this week would be prohibited. However, Odinga, the leader of the Azimio party, has insisted that they will take place regardless of whether the government issues a permit.
The opposition coalition said in a statement on Wednesday that Odinga's bodyguard and several other Azimio party officials had been arrested.
"These illegal arrests and/or abductions are a desperate attempt by the illegitimate Ruto regime to paralyze Azimio and its top leaders, and to sabotage the exercise of our constitutional right to peaceful demonstrations," it stated.
Human rights organizations and the United Nations have expressed concern about the use of force by police against protesters in Kenya.
You can share this story on social media: