Nearly 50 African states to attend summit in Russia – FM
About half of the countries will be represented by heads of state or government, according to the Foreign Ministry in Moscow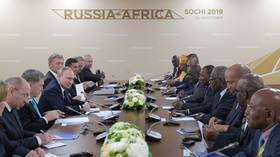 Forty-nine countries have confirmed their participation in the Russia-Africa summit set to take place next week in St. Petersburg, Aleksandr Polyakov, deputy director of the Russian Foreign Ministry's Africa department, announced on Tuesday.
Polyakov said the decision to participate demonstrates African nations' firm commitment to developing relations with Moscow, despite Western pressure.
"So far, we have received confirmation of participation from 49 African delegations, with about half of the African countries to be represented at the highest level: the level of heads of state and government," he told the media.
The second Russia-Africa Summit is scheduled for July 27-28, taking place alongside the Economic and Humanitarian Forum, which is expected to provide a platform for business meetings and panel sessions.
The first high-level meeting was held in Sochi in 2019 under the theme 'For peace, security, and development'. Nearly 50 African heads of state attended.
Polyakov said that final preparations for the event were underway, with a schedule of meetings involving President Vladimir Putin being developed.
"Bilateral and multilateral documents of our cooperation with Africans are being prepared for signing," the diplomat stated.
Last month, Russian Deputy Foreign Minister Mikhail Bogdanov said the event is a "serious first step" toward Moscow's "economic and political return to Africa."
The names of the countries attending the conference have not been released, but Ugandan President Yoweri Museveni said in March that he would be present.
South African President Cyril Ramaphosa has also accepted Putin's invitation to the summit, TASS reported last week, citing a spokesperson for Pretoria's embassy in Moscow.
The Kremlin said that an African peace initiative aimed at resolving the conflict in Ukraine will be discussed on the sidelines of the summit.
You can share this story on social media: