Iranian president condemns West over LGBTQ culture
Cultural cooperation between Iran and Uganda will be very effective in confronting the plots of enemies, says Ebrahim Raisi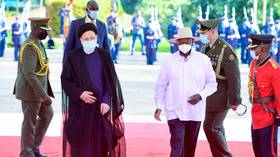 Iranian President Ebrahim Raisi visited Uganda on Wednesday as part of a three-nation African tour, criticizing Western nations' attempts to push others to accept the "ugly" trend of homosexuality.
Raisi commended the anti-colonial nature of Uganda, which recently passed anti-LGBTQ legislation that imposes the death penalty for "aggravated homosexuality" to widespread international condemnation.
"Western countries are putting pressure on independent countries by attacking the family foundation, promoting the ugly phenomenon of homosexuality, the spread of extremism and terrorism, and the use of human rights as a tool," he said during a meeting with his Ugandan counterpart Yoweri Museveni.
"I believe that this issue, and these strong attacks by the West against the establishment of families and against the culture of the nations, is another area of cooperation for Iran and Uganda," he added.
The Islamic Republic's legal system explicitly outlaws homosexuality, which is punishable by death under the country's penal code.
Raisi's African visit is the first by an Iranian president in more than a decade, as the country seeks to diversify trade and diplomatic partnerships around the world in the face of US economic sanctions.
In Kampala on Wednesday, the Iranian president suggested that "cultural cooperation between Iran and Uganda will be very effective in confronting the plots of our enemies."
The two countries formalized their partnership by signing several memoranda of understanding in areas such as visa exemptions, agricultural cooperation, and the establishment of a joint permanent commission.
While in Uganda, Raisi also inaugurated Iran's innovation and technology office, the foreign ministry in Tehran said on Twitter.
Previously, he was in Kenya, where he met with President William Ruto and agreed to expand Nairobi's research and technology capacity in manufacturing, health, and the blue economy.
He is currently in Zimbabwe, the final stop on his tour of East Africa.
You can share this story on social media: