North African nation jails dozens for human trafficking
A Libyan court has found dozens of people responsible for putting migrants in a dilapidated boat that sank on the way to Italy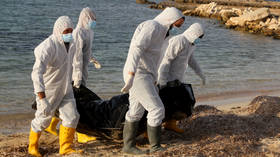 A court in eastern Libya has jailed 37 people for human trafficking, following the deaths of 11 migrants whose boat sank in the Mediterranean Sea en route to Europe.
The Al-Bayda court of appeals handed down life sentences to five of the defendants, while nine received 15 years behind bars. The rest received one-year sentences.
The defendants were part of a network smuggling migrants from Libya to Europe, local media reported on Tuesday, citing a statement from the public prosecutor's office. They were accused of organizing an Italy-bound migrant crossing in a dilapidated vessel, resulting in the 11 deaths.
Details of when the deadly incident were not provided.
The North African country, a major transit point for human trafficking since the Western-backed overthrow of Muamar Gaddafi in 2011, has become one of the most dangerous starting points for people trying to reach Europe by sea, according to the UN's International Organisation for Migration (IOM).
According to the IOM Missing Migrants Project data, nearly 3,800 people died on migration routes from and within the Middle East and North Africa (MENA) region, which includes Libya, in 2022 alone.
Last month, hundreds of migrants were presumed dead after a boat that reportedly originated in Egypt but loaded passengers in Libya, capsized in the Mediterranean Sea near the coast of Greece.
In April, the European maritime-humanitarian organization SOS Mediterranee said 92 migrants were rescued off the Libyan coast while attempting to reach Europe.
Apart from deaths at sea, Libya had the highest number of fatalities on land routes in North Africa, with 117 people dying in 2022, the UN migration agency reported.
You can share this story on social media: