Snow falls on Johannesburg for first time in decade
Locals have described the occurrence as "magic" and a "big deal," with weather services issuing disruptive snow warnings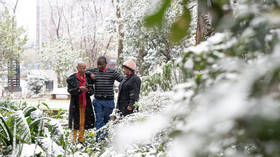 South Africa's biggest city, Johannesburg, witnessed its first snowfall in more than a decade on Monday, bringing a rare wintry experience to residents.
Puseletso Mofokeng, a senior forecaster at the South African Weather Service (SAWS), told AFP news agency that the city last saw snow in 2012, and before that not since 1996.
Earlier, SAWS issued warnings of disruptive snow over parts of the Eastern Cape and KwaZulu-Natal.
"A threat to life and hypothermia exists if care is not taken," the weather service warned on Monday, urging residents to stay warm, although the temperature has since climbed to a mild 13 degrees Celsius.
Local media reported, citing SAWS, that an intense upper trough system and a cold front led to the unusual cold snap. Wayne Venter, a meteorologist and forecaster at SAWS, told the Daily Maverick news outlet that an intense upper trough system is essentially an area of lower pressure in the atmosphere that meanders due to strong winds.
Apart from the Gauteng region, which includes Johannesburg and Soweto, snow has been observed in other provinces, including the Eastern Cape and Mpumalanga.
The rare sight of snow has delighted many locals, with some taking to social media to express their joy. Residents in Johannesburg described it as "magic," a "big deal," and a "wonderful start to the week."
Taken by Lana earlier today on the N9.📸 Remember to send through your report, pictures, and videos. Send them to our inbox or Whatsapp the information to 066 005 2750 pic.twitter.com/BUSWAqpD9V

— Storm Report SA (@StormReportSA1) July 10, 2023
Taken at Trichardtsfontein dam in Trichardt Mpumalanga sent in by Johanette Joubert.📸 Remember to send through your report, pictures, and videos. Send them to our inbox or Whatsapp the information to 066 005 2750 pic.twitter.com/N2rNQw5Xos

— Storm Report SA (@StormReportSA1) July 10, 2023
Natasha Nel from Bethal, Mpumalanga sent us these images.📸 Remember to send through your report, pictures, and videos. Send them to our inbox or Whatsapp the information to 066 005 2750 pic.twitter.com/g4S8OpJ4Vc

— Storm Report SA (@StormReportSA1) July 10, 2023
Luzaan sent us this video of snowfall in Grootvlei Mpumalanga.📸 Remember to send through your report, pictures, and videos. Send them to our inbox or Whatsapp the information to 066 005 2750 pic.twitter.com/RjBbrBcF1q

— Storm Report SA (@StormReportSA1) July 10, 2023
You can share this story on social media: