Nigeria at forefront of African solidarity – political scientist
The country shoulders the majority of responsibility in the ECOWAS bloc of Western states on the continent, Ibrahim Umaru told RT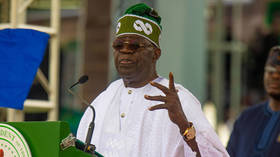 Africa was a united front before colonialism, political science expert Ibrahim Umaru has said in an interview with RT, commenting on the election of Nigerian President Bola Tinubu as chairman of the Economic Community of West African States (ECOWAS).
Tinubu was chosen on Sunday to lead the 15-nation regional political and economic bloc for the next year.
Umaru told RT that ECOWAS plays a significant role in the region and on the African continent at large, and that Nigeria has been working to promote the bloc.
"Nigeria as the only power shouldered more than 70% of the ECOWAS responsibility," the political science lecturer at the University of Maiduguri said.
The group's headquarters is in Abuja and is being serviced by the Nigerian government, Umaru explained, adding that the country "is doing it at the expense of Africa's big brotherhood."
You can share this story on social media: