Lavrov issues update on Russian fertilizer shipments to Africa
Deliveries were delayed due to EU "sabotage," the foreign minister has claimed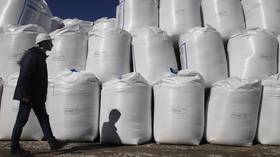 Kenya has received 30,000 tons of Russian fertilizer which arrived in the port city of Mombasa on Monday, the product manufacturer has confirmed. Earlier in the day, on a visit to the African nation, Russian Foreign Minister Sergey Lavrov claimed that the shipment would have a "tremendous impact" on Kenya's agricultural plans.
The delivery is part of a large batch of Russian fertilizer which has been seized by several EU nations amid the conflict in Ukraine. A total of 262,000 tons of fertilizers had been blocked at ports in Latvia, Estonia, Belgium, and the Netherlands, the Russian Foreign Ministry previously said. Moscow then offered to give the commodity free of charge to nations in need, including in Africa.
The first shipment of 20,000 tons delivered as part of the initiative arrived in Malawi from the Netherlands in March. Moscow has blamed Western nations for delays to the shipments.
Russian President Vladimir Putin revealed in November that the leaders of several African nations had "directly contacted" him to complain that the West was blocking fertilizer deliveries. He insisted that the "absolutely unacceptable" disruptions were due to issues "that have nothing to do with food security."
Lavrov stated on Monday that the delivery process "is moving very slowly" and accused the EU of "outright sabotage of the goals… in the field of food security."
Later the same day, Russian fertilizer producer Uralchem-Uralkali – which has seen assets seized by EU members as part of their sanctions drive against Moscow – confirmed that a consignment of 34,000 tons of fertilizer had reached Mombasa and was being unloaded.
Uralchem-Uralkali stated it is committed to donating a total of around 300,000 tons of mineral fertilizers to developing nations. "We… believe that today's alarming global hunger crisis can only be alleviated by urgent and collective action on all levels," CEO Dmitry Konyaev said, warning that recent crop nutrient supply disruptions "have severely increased the risks of famine in many parts of the planet."
The company first announced its intention to donate some 260,000 tons of fertilizers in November, earning praise from the UN World Food Program (WFP). The UN agency then facilitated Russian shipments to Malawi and Kenya by chartering vessels to transport the loads.
Russia has demanded that all impediments to its grain and fertilizer trade be lifted as part of the Black Sea grain deal struck last July by Moscow and Kiev with UN and Turkish mediation. Western nations continue to insist that Russian agricultural exports are not subject to sanctions, although Moscow argues that restrictions on financial transactions and logistics have prevented deliveries. Russia has threatened to scrap the deal if the terms for all parties are not respected.
You can share this story on social media: