Policy analysts want Black Sea grain to reach poor countries
Most of the goods shipped so far have ended up in developed nations to feed animals, African experts say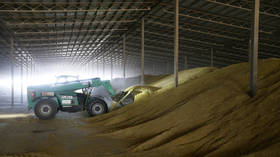 African food security and policy analysts are calling for measures to guarantee the delivery of produce to the poorest countries following the extension of the Black Sea grain deal.
Ovigwe Eguegu, policy analyst at Development Reimagined, told RT that the extension has increased "confidence that the issue of food security is not going to get worse," but noted that majority of some 30 million metric tons of previous supplies had gone to "developed countries to feed pigs and animals."
The Black Sea grain and fertilizer initiative was due to end on Thursday amid concerns in Moscow that the West had not fulfilled its obligations to Russia and only adhered to parts of the agreement relating to Ukraine. The Kremlin has repeatedly requested that restrictions on exports of Russian grain and fertilizer be removed, along with financial sanctions imposed on fertilizer suppliers.
Turkish President Recep Tayyip Erdogan announced on Wednesday that Russia had agreed to extend the agreement for an additional two months, without revealing whether Moscow's conditions had been fulfilled.
Mmatlou Kalaba, a senior analyst at the Bureau for Food and Agricultural Policy, told RT that he hoped there were "lessons learned" this time, and that "measures will be put in place to distribute the next allocations a little bit better to reach those in need."
You can share this story on social media: