Erdogan reveals grain deal decision
The Black Sea Initiative will go on for 60 more days, the Turkish president has said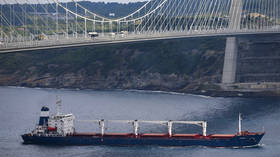 President Recep Tayyip Erdogan of Türkiye announced on Wednesday that Russia has backed the extension of the Black Sea grain and fertilizer agreement by another two months. It was due to expire on Thursday, after Moscow said the West had failed to keep its end of the bargain.
"I have good news," Erdogan said in a speech at his party headquarters. He thanked Russian President Vladimir Putin for supporting the Turkish initiative to extend the arrangement, and promised Ankara would do everything it can to see it fully implemented.
Brokered with UN and Turkish mediation last July, the Black Sea Initiative has allowed Ukraine to ship some 30 million metric tons of corn, wheat, soy and other grain. As part of the same package, the UN was supposed to unblock exports of Russian grain and fertilizer. Moscow says this never happened, however.
The Russian Foreign Ministry confirmed Erdogan's announcement shortly thereafter. Spokeswoman Maria Zakharova noted that "distortions in the implementation of the grain deal need to be corrected as quickly as possible."
Last week, Deputy Foreign Minister Sergey Vershinin went to Istanbul to negotiate the extension, but left without an agreement. He told reporters that the deal was "over" unless Russia received solid guarantees in relation to its exports. Thursday was the deadline to see Moscow's concerns addressed.
While the US and the EU insist they never sanctioned Russian grain and fertilizer as such, they did sanction all Russian ships and made it impossible for them to access insurance brokerage services, blocking the exports in practice. Moscow wanted those sanctions lifted, according to its envoy to the UN mission in Geneva, Ambassador Gennady Gatilov.
Russia also sought the removal of financial sanctions from fertilizer providers, the reconnection of the Russian Agricultural Bank (Rosselkhozbank) to the international SWIFT payment system, and for Ukraine to reopen the Togliatti-Odessa ammonia pipeline. Erdogan did not reveal whether any of these conditions had been met.
Russian officials have repeatedly pointed out that only the part of the deal pertaining to Ukraine was being honored, and that Kiev was lining its pockets under the guise of "loud noises about the need to ensure food security" around the world, as Vershinin put it.
The Black Sea Initiative was supposed to stabilize global food prices and help countries in Africa and parts of Asia dependent on imports to meet their needs. Russia used to export far more grain than Ukraine before last year's escalation of the conflict disrupted the world markets.
Much of Ukraine's grain exports actually ended up as animal fodder in wealthy Western countries. A February investigation by an Austrian outlet found that almost half the corn and wheat exported to the EU went to the makers of world-famous Spanish ham to feed their pigs.
You can share this story on social media: