US and UN agencies suspend food aid to Tigray
The humanitarian organizations have claimed that supplies intended for people at risk of famine are being diverted and sold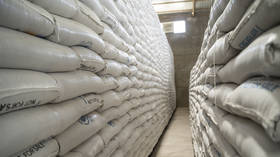 Food shipments to Ethiopia's war-ravaged Tigray region have been halted by the US Agency for International Development (USAID) and the UN World Food Programme (WFP) after the organizations discovered that supplies were being diverted, both agencies have announced.
In separate statements, the humanitarian aid organizations said investigations had found that food meant for people experiencing "famine-like conditions" is being redirected and sold on the local market.
"We have made the difficult decision to pause all USAID-supported food assistance in the Tigray region until further notice," the agency's administrator, Samantha Power, said on Wednesday, while adding that "other vital assistance not implicated in the diversion scheme will continue."
The WFP said it is "deeply concerned" about the reports of theft, adding that it "will not tolerate any interference in its distribution of critical food aid" to people in severe need.
The UN food agency said it is collaborating with regional authorities to identify individuals engaged in the aid diversion activities and to eliminate gaps in the beneficiary identification and registration process.
USAID stressed that it will not resume operations until "strong oversight measures are in place" and until it is certain that essential aid is reaching the intended recipients.
The two-year armed conflict that erupted in November 2020 between the Ethiopian government and forces led by the Tigray People's Liberation Front killed 600,000 civilians, according to the African Union, and displaced millions. A peace agreement signed in November of last year ended the fighting in Tigray, but hunger remains, with the WFP reporting that 84% of people in the region are facing a food crisis.
In response to the aid suspension, Getachew Reda, the leader of Tigray's interim regional government, said "a high-level investigation" has been launched to ensure that the perpetrators of the theft are held accountable. "I'd like to call on humanitarian agencies to continue their multi-sectoral relief aid to save lives of the most vulnerable in Tigray," he said in a statement on Wednesday.
You can share this story on social media: