Hurricane Harvey dog gets tongues wagging online (PHOTO)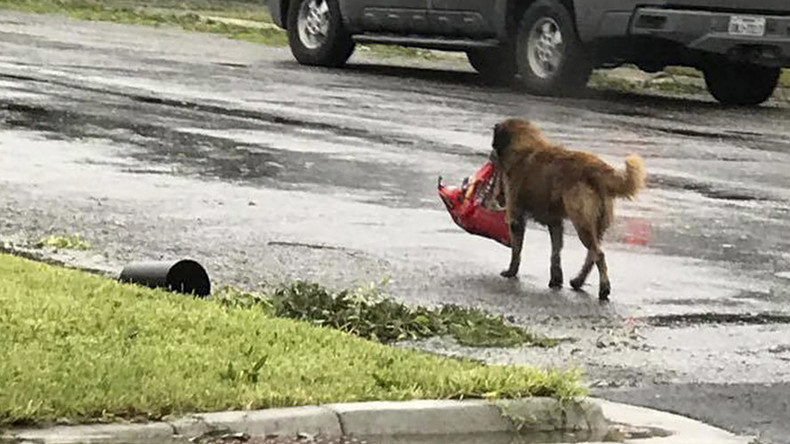 Storms can blow in strange occurrences and Hurricane Harvey appears to have had an odd impact on a Texas dog, who was spotted "evacuating" from his neighbourhood with a bag of treats.
As flash floods and 140mph winds wreaked chaos throughout the southern state on Saturday, one dog appears to have kept a cool head and taken advice from certain security warnings around the Gulf Coast.
Spotted by Tiele Dockens in Sinton, Texas, Otis the dog has now become a viral sensation thanks to a picture of him carrying dog food during a clean-up of the storm.
The image is providing light relief amid a tropical storm that has caused "catastrophic flooding" along the east coast of the US.
"We were out today [Saturday] clearing tree limbs from street. Families are already starting to clean up. Our town is still out of water and power.
"I was driving around checking on family and friends' properties that decided to evacuate [sic]. Otis was strolling the streets after the owner let him out… with his dog food of course," she told Weather.com.
Docken's image on Facebook has since been shared thousands of times, with a number of commenters praising the animal for his level-headedness. She added that while Otis did go for a walk, he was eventually picked up safely by his owner.
READ MORE: At least 3 dead as Hurricane Harvey continues rampage across Texas (PHOTOS, VIDEOS)
"He's evacuating with his food. Smart dog," a Facebook user said.
"God bless him. He didn't want to be stranded without food," one person offered, while another added: "He is just getting prepared too. How adorable."