At least 3 dead as Hurricane Harvey continues rampage across Texas (PHOTOS, VIDEOS)
Published time: 26 Aug, 2017 16:33
Edited time: 28 Aug, 2017 17:34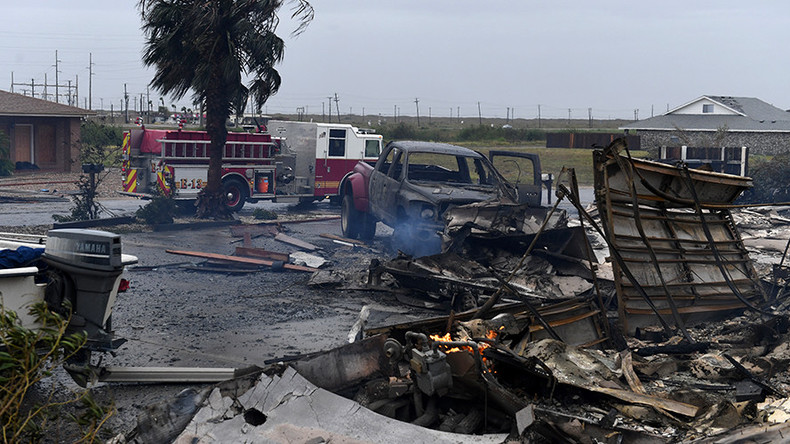 At least three people have died and thousands of others left without power as emergency services continue to battle "catastrophic flooding" across Texas in the wake of Hurricane Harvey.
READ MORE: Hurricane Harvey hammers Texas coast (LIVE UPDATES)
The National Hurricane Center downgraded the storm from category 4 to category 1 on the Saffir-Simpson scale earlier on Saturday before later downgrading it to a tropical storm. However, meteorologists warn that major damage could come from flooding, with torrential rains expected to continue for days.
At least three people were killed in Aransas County, an area hit heavily by Hurricane Harvey, the assistant fire chief with the Rockport Volunteer Fire Department, Roy Laird, told the Los Angeles Times. The number of casualties could rise as rescuers are still searching through the debris of collapsed buildings.
Harvey made landfall Friday night and pummelled the southeast of Texas with heavy rain and 130mph winds. It is the most intense storm to hit the US in more than ten years.
Experts now fear Harvey could linger over Texas for days and bring "catastrophic flooding," with the Federal Emergency Management Agency (FEMA) saying that Harvey is "turning into a deadly inland event."
Mayor of Rockport Charles Wax revealed that there had been one confirmed fatality in the coastal town which sustained heavy damage as the hurricane moved further inland.
Speaking at a news conference from the emergency operation center in Austin, Texas Governor Greg Abbott said his primary concern is "dramatic flooding" ahead of an expected deluge of up to 50 inches of rain.
Tens of thousands of people have fled inland to escape the storm which has left nearly 300,000 people without electricity.
Photos and videos posted on social media captured the power of the weather event and the extent of the damage it has left in its wake.
Even alligators are feeling the effects of the fallout with Harvey with Texas Parks & Wildlife Department warning people that the reptiles are moving inland to avoid rising flood waters.
The conservation authority advised people that 'gators often seek refuge under cars and on porches during bad weather.
"Alligators that show up on your property during flooding and heavy rain are not out seeking you for food or trying to be aggressive they are simple trying to deal with the weather like the rest of us. If weather is bad, please let them be as they will move when water goes down," the department's Alligator Nuisance Control Hunters said on Facebook.
US President Donald Trump has said he's "closely monitoring" the storm from Camp David. The real estate tycoon even struck an optimistic note on Twitter, saying "so far, so good!"
Trump also directly responded to US Senator Chuck Grassley who warned him not to make the same mistake as the Bush administration did during Hurricane Katrina in 2005.