Civil-right activist and pioneering comedian Dick Gregory dies aged 84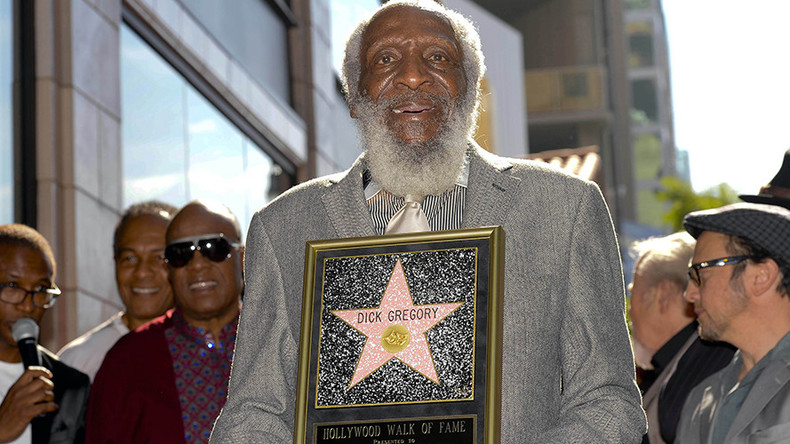 The first African-American comedian to achieve success with white audiences, activist Dick Gregory, has died aged 84, his family announced on Saturday. The St Louis native died in hospital in Washington, DC, as a result of heart failure.
"It is with enormous sadness that the Gregory family confirms that their father, comedic legend and civil rights activist Mr. Dick Gregory departed this earth tonight in Washington, DC," his son Christian Gregory said on Instagram. A rep for Gregory told The Hollywood Reporter that the death was as a result of heart failure.
Gregory became a pioneering comedian in the 1960s, receiving his first big break when he was booked to play the Playboy Club in Chicago.
"When I started, a black comic couldn't work a white nightclub. You could sing, you could dance, but you couldn't stand flat-footed and talk — then the system would know how brilliant black folks was," he said in a 2016 interview.
He immediately became a success with white audiences, earning him a place on 'The Tonight Show' in 1962. Gregory insisted he would only appear on the show if he was interviewed by host Jack Paar following his routine, a first for a black performer.
His appearance and earnings rocketed following his appearance. In 1964, he wrote the autobiography titled 'Nigger' in which he described his upbringing and racism. In the foreword he wrote "Dear Momma, wherever you are, if ever you hear the word 'nigger' again, remember they are advertising my book."
Gregory befriended Martin Luther King Jr. and Malcolm X, using his fame to bring attention to the African-American Civil Rights movement. In 1965, he took part in the protest marches in Selma, Alabama, and was shot at the Watts riots in Los Angeles while trying to keep the peace.
In 1968, Gregory ran for US president with the Peace and Freedom Party, receiving 47,000 votes and losing to Richard Nixon.
He had 11 children and is survived by his wife Lillian, whom he married in 1959.
Tributes to Gregory have been shared online, including from musician John Legend, who last year produced an off-Broadway musical which featured actor Joe Morton portraying Gregory.