Trump trolls CNN with provocative train smash retweet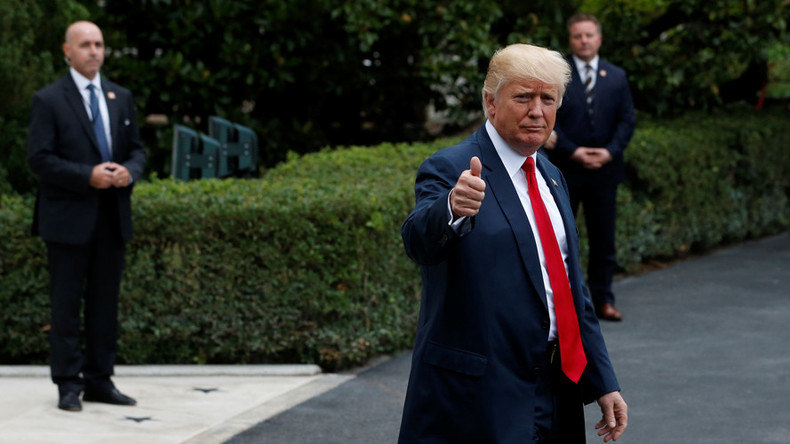 Donald Trump faced a barrage of criticism Tuesday after sending two contentious retweets that were quickly deleted.
Trump retweeted a cartoon of a 'Trump train' ramming into a person with a CNN logo on his head, as well as a retweet from a man calling the US president a fascist. Trump soon deleted both retweets.
The cartoon, entitled 'Fake news can't stop the Trump train' was heavily criticized online in the wake of the Charlottesville car attack by an alleged white supremacist.
READ MORE: 'It was an intentional attack': Eyewitness describes deadly Charlottesville car plowing incident
Trump was criticized for failing to specifically condemn white supremacists following the Charlottesville attack, at first calling out violence "on many sides." His silence was construed as a way to avoid alienating his voter base.
Trump's decision to retweet the cartoon was particularly surprising given the controversy he invited for retweeting a gif in July showing him body slamming a person with a CNN logo superimposed over their face.
READ MORE: Trump lays the smackdown on CNN in bizarre tweet (VIDEO)
The wrestling tweet was widely condemned as inciting violence and an attack on the free press.
The train cartoon tweet was shared under a Fox & Friends tweet that Trump also retweeted, detailing his potential pardoning of Sheriff Joe Arpaio, who was found guilty of ignoring a judge's order to stop targeting suspected undocumented immigrants at traffic stops.
During his morning Twitter session, Trump also retweeted a tongue-in-cheek comment in response to a Fox News story.
That comment read: "He's a fascist, so not unusual," referring to Trump.
The president deleted this retweet long before he erased the one about the train. However, many speculated that he was either acknowledging he is a fascist, or got confused about what the word meant.
The woman who shared the train tweet has a dubious Twitter feed, which includes Islamophobic memes.
On Monday, Trump also retweeted a post by a well-known 'Pizzagate' conspiracist, Jack Posobiec. The tweet attempted to draw comparisons between the outrage over the Charlottesville murder and an apparent lack of sufficient outrage over the fact that 39 shootings occurred in Chicago over the weekend.
The tweet read: "Meanwhile: 39 shooting in Chicago this weekend, 9 deaths. No national media outrage. Why is that?" It employed tactics beloved by arms of the right and Fox News to highlight 'black on black' crime.
Trump's retweet came on the same day he finally condemned the Charlottesville violence by white supremacists.