Gonna need a bigger camera! Great white chomps on researcher's camcorder (VIDEO)
Published time: 4 Aug, 2017 08:33
Edited time: 5 Aug, 2017 17:22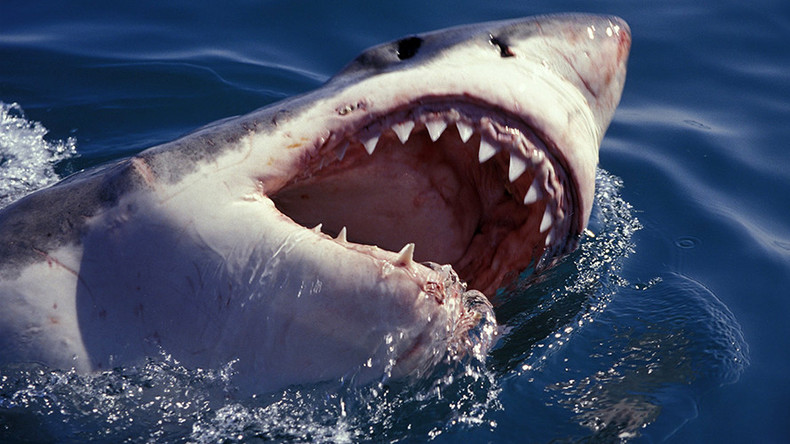 Anyone who's ever feared being eaten by a shark may want to look away now... One US marine researcher captured an uncomfortably close encounter with an 11-foot shark as it took a chunk out of his camera.
READ MORE: 'Fin was half the size of his board': Great White knocks man off bodyboard
Greg Skomal, a shark researcher with the Massachusetts Division of Marine and Fishery, was out with the Atlantic Shark Conservatory in Chatham, Massachusetts on Monday when he found himself in an unusual tug-of-war with the great white.
"I had the camera on a pole in the water and the shark was swimming and I'm thinking, 'I'll get a great view of the face of the shark and that will help us identify it,'" Skomal told New England Cable News. "It kept coming and then opened its mouth and bit it."
The video shows the shark grab the camera in his mouth, giving a unique – if horrifying – view of inside the great white's mouth, and its rows of jagged teeth. Posted online by the Massachusetts Division of Marine and Fishery on August 1, the footage has been viewed more than 15,000 times.
"Every week is #sharkweek for DMF Scientist Greg Skomal! Check out this amazing underwater footage of one of the regions visiting white sharks from yesterdays [sic] research trip! Atlantic White Shark Conservancy #chomp #ourcameraisjustfine," the page said.
After taking its first bite, the shark circles back for a second nibble, flashing its pointy white teeth at the camera.
READ MORE: Rare megamouth shark swims with diver off Komodo Island (VIDEO)
Skomal has been up-close with plenty of sharks, but this was the first to take a bite of his equipment.
"This is new behavior for us," he said. "I hope we know this shark. I'd like to know what the behavior of this particular animal is."
According to Skomal, the shark was likely having a taste to learn more about what the camera was, rather than being predatory.