Air art: Plane traces perfect outline of itself over the US (IMAGE)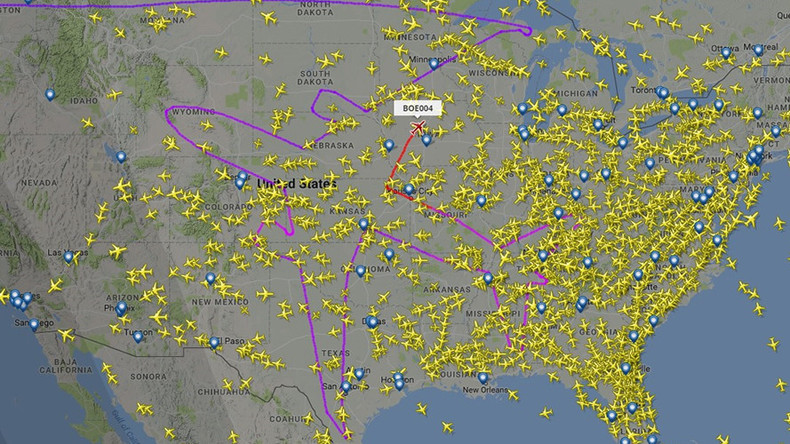 A pilot has taken a passenger jet on a zigzag cross-country flight over the US – and even managed to have some fun with the route.
Live flight path data from the aircraft showed that its flightpath was more than just one straight line or arc, rather it was a series of flightpaths connected to resemble a plane.
Flight BOE004 departed from Boeing Field airport in Seattle at around 3.40pm local time Wednesday, according to Flightradar 24, which tracks air traffic in real time.
The Boeing 787-8 Dreamliner took a path east across Montana, North Dakota and Minnesota before changing course dramatically and flying south-west.
When looked at on a map, the jet's bizarre route depicts the shape of a twin engine passenger jet.
According to Boeing, the flight is part of an 18-hour "endurance" test of the aircraft.
"Rather than fly in random patterns, the test team got creative, flying a route that outlined a 787-8 in the skies over 22 states," a Boeing Company spokesperson told RT.com.
"The nose of the Dreamliner is pointing at the Puget Sound region, home to Boeing Commercial Airplanes. The wings stretch from northern Michigan near the Canadian border to southern Texas. The tail touches Huntsville, Alabama," he added.
Boeing's long-haul 787-8 Dreamliner was first launched in 2009. The aircraft has a maximum capacity of 242 passengers and a range of more than 13,600 kilometers.
While the pilot used radar as a personal canvas, the flight stirred up intense interest among planespotters online. Some people speculated it was a test flight, while others suggested it could be some kind of odd coincidence.