Cops drag couple from blazing wreckage after car plunges off bridge (VIDEO)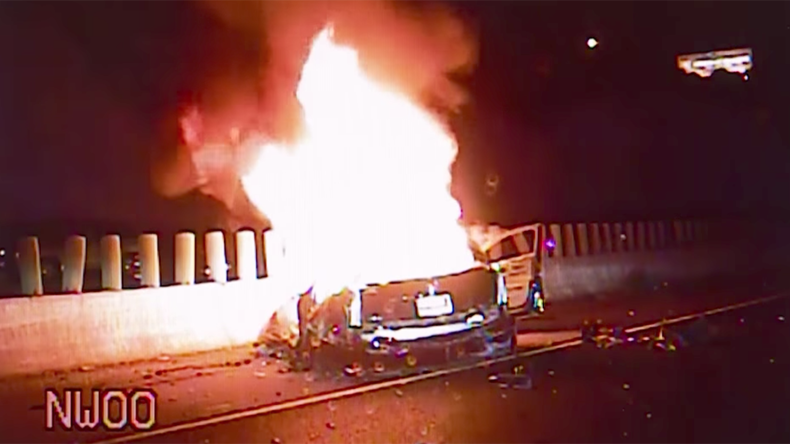 Two Minneapolis police officers are being hailed as heroes after footage of their brave rescue attempt of motorists from a burning vehicle was released online.
Officers Krystle Fallon and Ryan Davis were responding to a call about a car plunging off an overpass onto the I-94 highway in the north of the city when they discovered a man and woman trapped inside the wreckage.
READ MORE: Federal agent shoots own foot at crowded Orlando airport
"I couldn't immediately tell how to get her out of the vehicle so I ran around to the driver's side rear passenger door," Fallon said at a media event at the crash site Tuesday.
"When I saw flames coming out of the hood [I knew] that we had a short amount of time. That's when I yelled to my partner, we've got to get these people out now."
Fallon went to the passenger's side door and took the first victim, the woman, safely from the wreck. The officers then set about freeing the male passenger, who was caught by the seat belt and airbag on the driver's side.
Assisted by the arrival of another officer and two bystanders, the group cut away the seatbelt and pulled the man free as the front of the vehicle went up in flames.
"When we were pulling them out I had in my head we had about 45 seconds," said Davis. "You know, just the timer in my head going, to get him out before he would be on fire, or we would be – the car would've exploded. And we got him out before that."
Driver Floyd Cunningham, 37, died later at hospital. His fiancée Lancha Robertson, 37, survived the July 27 crash.
READ MORE: Fleeing shoplifter shot and killed by off-duty Baltimore cop
Addressing the press, Davis said that he took inspiration from his two four-month-old daughters.
"I just felt that I would want somebody to do that for me and my daughters and my wife if we were in that situation," said office and former firefighter.
Minneapolis Police released footage of the rescue from the traffic cameras and police dashcams Tuesday.
The officers' bravery represents something of a PR coup for the city's police department following the death of Justine Damond, who was fatally shot by officers responding to a suspected sexual assault near her home last month.
READ MORE: 'Police easily startled': Warning signs erected near spot of fatal Minneapolis shooting
Damond, who had made the call, approached the driver's side window of the police vehicle when she was fatally shot by Officer Mohamed Noor in the passenger seat, according to investigators.
The officers' body cameras were reportedly not turned on and the shooting was not captured on the squad car camera.
You can share this story on social media: