'Police easily startled': Warning signs erected near spot of fatal Minneapolis shooting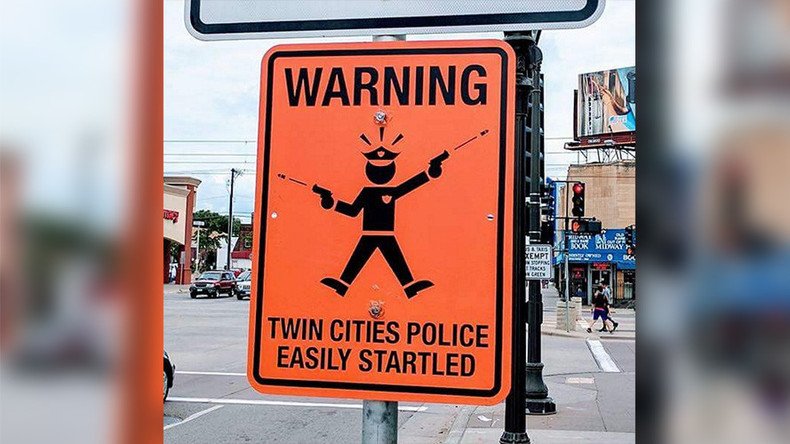 Fake street signs warning Twin City residents to beware of police have been erected following the killing of an unarmed woman by a Minneapolis officer.
Posted in several locations across Minneapolis and St. Paul, the signs read: "Warning: Twin Cities Police easily startled."
The signs are said to be mocking the excuse given by officer Matthew Harrity who said he and his partner, Mohamed Noor, were "startled" by a noise before shooting Justine Damond outside her home on July 15.
The "unauthorized" signs were taken down by authorities shortly after they were erected, police said.
READ MORE: 'Loud sound' startled Minneapolis police officer before fatal shooting of Australian woman
"We are aware of the signs and Minneapolis Public Works is removing them," Minneapolis Police Department spokeswoman Sergeant Catherine Michal told CNN. "We have no further comment at this time."
Australian Damond, 40, was shot dead by Noor after she called police to report a possible rape in the alleyway beside her home.
READ MORE: 'Inexplicable': PM demands answers over killing of Aussie woman by US police officer
A woman, supposedly Damond, slapped the back of the patrol car before walking up to the driver's side of the vehicle, according to an investigation carried out by the Minnesota Department of Public Safety Bureau of Criminal Apprehension (BCA).
Noor, sitting in the passenger seat of the squad car, then shot across his partner, Harrity, killing Damond.
READ MORE: Minneapolis police chief resigns amid fallout of fatal shooting of Australian woman
Minneapolis Police Chief Janee Harteau resigned from her post, at the request of Mayor Betsy Hodges, Saturday.
"Last Saturday's tragedy, as well as some other recent incidents, have caused me to engage in deep reflection," she said in a statement. "I've decided I am willing to step aside to let a fresh set of leadership eyes see what more can be done for the MPD to be the very best it can be."
No charges have been filed against the officers, but they have been placed on paid leave.
You can share this story on social media: