'You want me arrested?': Julian Assange tweets at France's Macron over leaked emails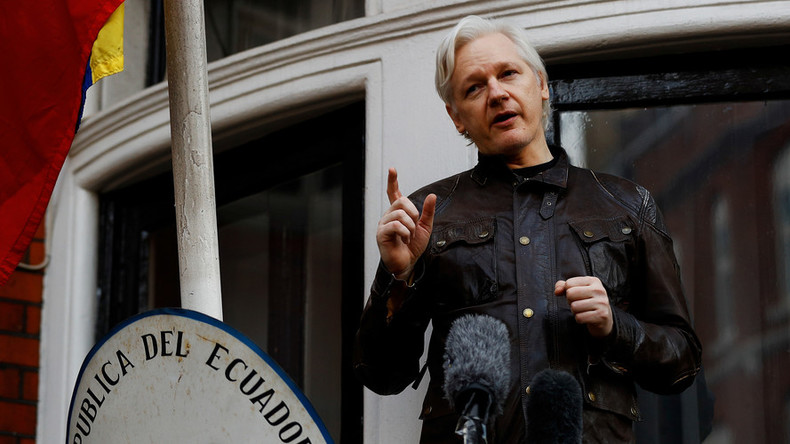 WikiLeaks Editor Julian Assange is daring Emmanuel Macron to call for his arrest, after the website released thousands of hacked emails from the French president's election campaign.
After a tranche of emails associated with the French president was published in a searchable archive by WikiLeaks on Monday, Macron's political party released a statement saying a complaint had been filed with the authorities.
READ MORE: WikiLeaks releases 21,000 'verified' Macron campaign emails
"En Marche will inform the public prosecutor of this new publication in the complaint already filed and under consideration for fraudulent access, fraudulent extraction of data, breach of correspondence and identity theft," a party statement said.
While the party did not specifically mention Assange or an arrest, the WikiLeaks editor has taken to Twitter to seemingly goad Macron, asking: "You want my arrest?"
Posting a Le Figaro article about En Marche's statement, Assange, who has been taking refuge in London's Ecuadorian embassy since 2012, suggested the French president should be clear about his end goal.
Macron veut-il mon arrestation? Laissez-le assumer et dire, plutôt que de passer par un non-parti et ses Procureurs. https://t.co/NCiw5Rw8Sn

— Julian Assange 🔹 (@JulianAssange) August 2, 2017
In another tweet linking to the same article, Assange implied that Macron was undermining press freedom.
On May 5, Macron's campaign team was the target of a "massive hack" two days before the final presidential vote. An investigation into the security breach is still underway.
READ MORE: Emails & docs from France's Macron campaign leaked after 'massive' hacking attack
The timing of the hack raised suggestions that it had been coordinated to influence the outcome of the election.
In the immediate aftermath, the French electoral commission warned the nation's media not to publish details of the hack in the run-up to the vote.
You can share this story on social media: