Son of Cecil the lion killed by trophy hunter in Zimbabwe
Published time: 20 Jul, 2017 18:00
Edited time: 2 Aug, 2018 13:08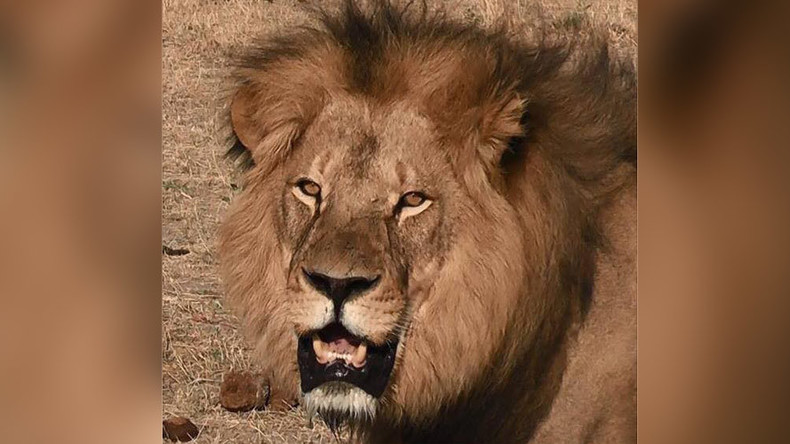 The son of Cecil the lion has been shot dead by a hunter in Zimbabwe. It's two years since the murder of the animal's father by a trophy-hunting US dentist sparked worldwide anger.
Xanda was killed by professional hunter Richard Cooke, outside of Hwange National Park in the southern African country, close to the spot where Cecil was killed on July 1, 2015.
Hwange National Park confirmed the killing of Xanda on Facebook, saying the hunter was also responsible for killing Cecil's brother.
The park also confirmed that Xanda had several young cubs who now have to fight for survival in the harsh African savannah without their father's help.
The killing of Cecil the lion caused international outrage and shone a light on trophy hunting in Africa.
Cecil was shot dead by Walter Palmer who abandoned his Minnesota practice for months after the shooting, fleeing the wave of public criticism.
The dentist reportedly paid $65,000 for the privilege of killing the 13-year-old lion.
"When will the Lions of Hwange National Park be left to live out their years as wild born free lions should...?" a statement from the nature reserve read.
READ MORE: Cecil internet rage forces dentist lion killer to hide & close clinic
Social media users reacted with anger and sadness to the news of this latest trophy killing.
"Was Xanda collared? Not that it would have saved him from this piece of shit. But it might have acted as a warning that he was being monitored. Someone's pocket being filled by these rich despicable trophy hunters? Why aren't these lions protected. Why keep on trading in their lives for money? Why why why????" asked Monica Pelger on Facebook.
"Today, I cry for all humanity. In a world where a cat is worth more as a trophy than a living creature, there is something wrong with humans and arms and death. Dear Cecil, Xanda, please forgive those of us who tried to save you," wrote Stu Elman on Facebook.
Trophy-hunting tourists legally kill more than 600 lions each year, according to the International Union for the Conservation of Nature (IUCN).
That is approximately 2 percent of the entire African lion population, currently estimated at 30,000. A 2011 report by the International Fund for Animal Welfare said that between 1999 and 2008 American hunters accounted for 64 percent of the kills.