'Go home f***ing tourists': Insulting plane banner targets beachgoers in France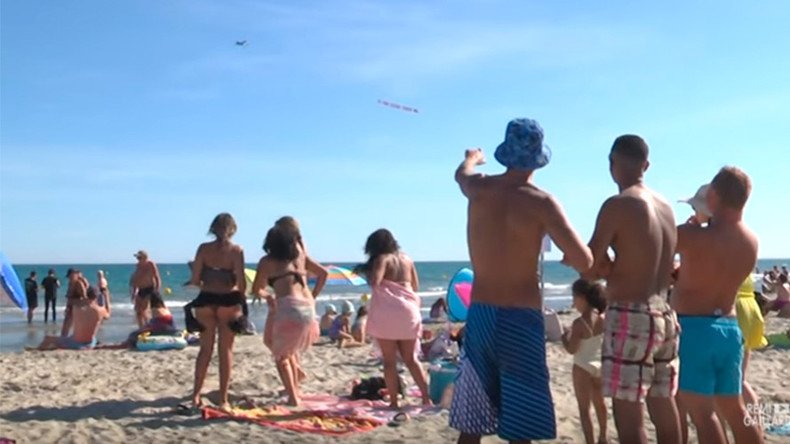 The mayor of a French resort has expressed regret over a plane banner telling 'f***ing tourists' to go home. For some reason, though, he posted a picture of the offensive slogan on his Twitter page.
The plane with a banner, reading 'Go home f***ing tourists,' puzzled beachgoers at Mauguio Carnon near Montpellier in southern France Sunday.
The message was first displayed in English, but then the aircraft made another round to display the Spanish version of the insult.
The Mediterranean resort is located near the French border with Spain and draws a lot of visitors from the neighboring state.
Some holidaymakers on the beach found the stunt amusing but others said their day was ruined.
A video from the scene showed a man shouting "It's crazy! It's crazy! It's crazy!" and pointing his finger in the air.
Mauguio Carnon mayor, Yvon Bourrel, addressed tourists via Twitter to assure them that they were welcome and that neither the administration nor the locals had anything to do with the plane.
Bourrel said that the "upsetting" act was a work of French prankster, Remi Gaillard, who simply wanted "to create buzz".
Ironically, the mayor's message was accompanied by pictures of the offensive slogan.
Gaillard, who uploaded a video of the prank online, said he also had his message prepared in French, but police arrived at the airport and prevented the plane from taking off a third time.
He also criticized authorities for a perceived lack of safety at the beach, claiming that rescuers usually leave their posts too early when it's is still packed with people.
According to the video, rescuers stayed later due to the Sunday's plane incident and were able to help a tourist who suffered from sunstroke.
"Actually, I'm happy because if I didn't do my stupid video, they wouldn't be here today. That's fate," Gaillard said in the footage.
You can share this story on social media: