New York family of 5 kicked off JetBlue flight (VIDEOS)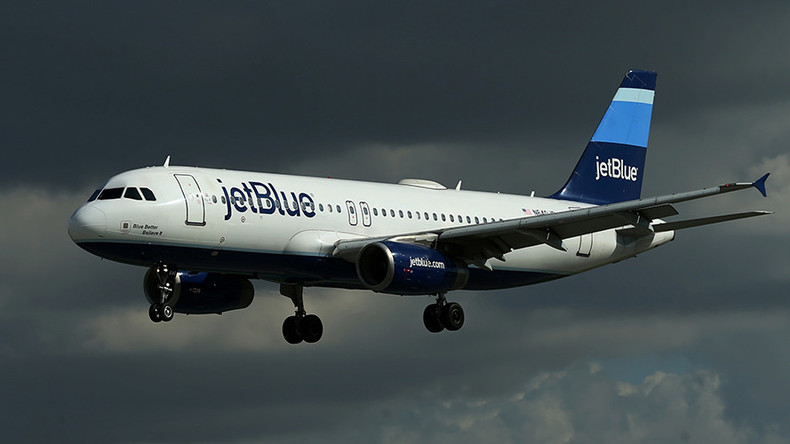 A Brooklyn family is considering legal action after they were removed from a JetBlue flight in Florida after getting into an argument with a passenger over their child kicking the seat in front.
Tamir Raanan and Mandy Ifrah said they got into an argument with another passenger after she complained that their youngest child was kicking her seat. Ifrah said the matter was soon resolved after words were exchanged, WTVJ reports.
Video footage filmed by the couple on their cellphone on July 2 shows a JetBlue staff member asking the couple to exit the New York-bound plane to talk. The footage doesn't show what happened before they were asked to exit the aircraft.
According to Ifrah, after the argument, "The plane turns back around, goes back to the gate," she told WPLG.
The two-part video was uploaded to Youtube under the name Charles Jones Tuesday.
"I have three kids, I'm not taking my kids off this plane," Ifrah can be heard saying off-camera.
"Did anything happen? Did anything physical happen?" she asks. "This is ridiculous!"
"What about them, are they getting off?" Raanan asks, seemingly referring to the people with whom they had a disagreement.
"She was allowed to tell me to tie my kids feet?" she asks.
"I'll be waiting outside, if you guys want to cooperate, then we'll help you," the employee says before walking away.
The second video starts when the family are off the plane at Florida's Fort Lauderdale/Hollywood International Airport.
Ifrah and Raanan ask the JetBlue employee, Armando Gonzalez, why they were removed. "Record this!" Ifrah says.
The supervisor remains calm and tells them they will get their money back and recommends that they call JetBlue to get more information.
"I have a family of five, I have three kids!" Ifrah says.
"It wasn't anyone here's decision," Gonzalez says, "Your actions provoked that and this is what's happened."
The couple said they didn't receive their checked luggage for a week and that they are yet to receive an explanation for why they were removed. They have also been banned from all future flights.
RT has reached out to Ifrah but is yet to receive a response.
"After a verbal altercation that included physical threats and profanities against a nearby customer, the aircraft door was reopened and our airports team politely asked the customers to step off to discuss the situation," JetBlue said in a statement which contradicted the family's version of events.
"The customers refused repeated requests and our crewmembers deplaned the entire aircraft. Law enforcement escorted them out of the gate area and we provided a refund."
You can share this story on social media: