Game of Thrones Moscow style: Historic metro station transforms for epic fantasy (VIDEO)
Published time: 18 Jul, 2017 14:45
Edited time: 19 Jul, 2017 10:01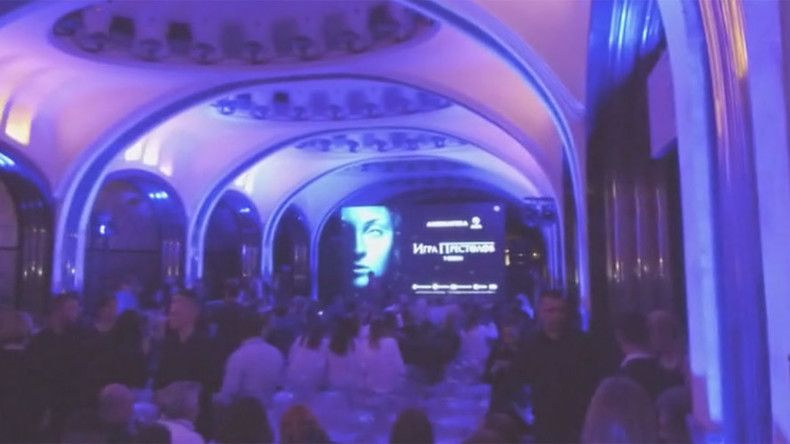 Moscow's opulent Mayakovskaya metro station transformed into a Game of Thrones celebration fit for a king, as fans of the popular series gathered on a platform to watch the latest episode.
To mark the return of the seventh season of the medieval fantasy epic, transport authorities in Russia's capital helped stage a special screening on Monday.
READ MORE: Iconic Maltese arch featured in 'Game of Thrones' collapses (PHOTOS)
Entering through the main doors of the station in Triumfalnaya Square, fans dressed as their favorite characters were brought down to the mosaiced halls of the transport hub, where a temporary cinema screen had been set up.
Built in 1938, the station is regarded as one of the most beautiful in the world due to its extravagant lighting, murals, and use of marble.
On Monday, a platform normally dotted with tourists and commuters was closed off to accomodate Game of Thrones fans and themed snacks.
Footage of the event, which was organized in conjunction with Amedia TV, shows Jon Snow and Tyrion Lannister lookalikes posing for snaps with delighted fans.
Roman Latypov, first deputy head of the Moscow Metro Strategic Development and Client Service department, described the screening as a "grandiose event for all our passengers, many of whom are fans of the popular saga."
READ MORE: 'Game of Thrones class' aims to lure students to Harvard
Amedia TV General Director Denis Gorshkov praised transport officials for allowing such a unique event to be organized.
"We are very pleased that the Moscow Metro supported the idea. This event was also highly appreciated by our partners in HBO and the creators of the series," Gorshkov said.