Iconic Maltese arch featured in 'Game of Thrones' collapses (PHOTOS)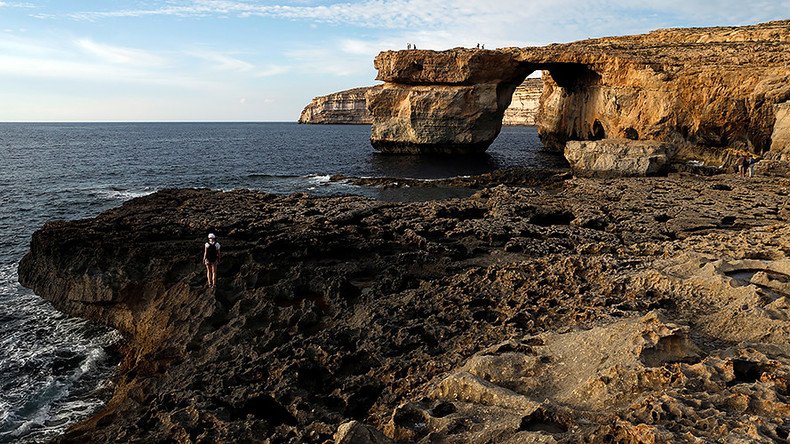 The famous Azure Window rock formation on the island of Gozo in Malta, which has appeared in films and TV shows, including Game of Thrones, has collapsed after a strong storm.
The Azure Window, a local landmark and major tourist attraction in Malta, collapsed into the sea on Wednesday morning, after withstanding centuries of attacks from the natural elements. The news has devastated locals and tourists alike.
"Heartbreaking," Maltese Prime Minister Josef Muscat tweeted on the loss of the Azure Window (Tieqa tad-Dwejra in Maltese).
"There was a big raging sea beneath the window," local resident Roger Chessell told the Times of Malta.
"Suddenly, the arch collapsed into the sea with a loud whoomph, throwing up a huge spray. By the time the spray had faded, the stack had gone too."
On hearing the news, many Gozitans headed to the area to see what happened with their own eyes, despite a police warning. The Azure Window was a major sightseeing spot for tourists, and it is estimated some 80 percent of visitors to Gozo came to see the arch.

"The flagship of the Gozitan touristic sites has sunk in its same birthplace from where for thousands of years, it stood high and proud heralding one of the natural beauties our little island is endowed with," said a statement from the Gozo Tourism Association, quoted by the Times of Malta.
"The much-promoted Azure window is no more, and only millions of photographs remain as testimony of this touristic spot."
A 2013 geological report concluded that although it would eventually succumb to erosion and the strong winds which had battered the site for centuries, the landmark would survive for decades to come. But concerns about the site's future grew over the past year as tourists were filmed jumping off it into the water, while the council introduced a 1,500-euro fine for walking over the arch.
Dr Peter Gatt, a geologist who conducted one of the government studies on the Azure Window, said that although his findings highlighted weaknesses in the structure, there was little that could have been done about it.
"Had we monitored and detected any difficulties, it would have still been a massive problem on our hands, as it would have been very hard to stabilize such a large structure," he told the Malta Independent.
"The prediction that the arch was stable and would last another couple of decades was correct," he added.
"However, we did not know the condition of the base of the pillar, and once it moved it took everything with it."
The Azure Window was created after two neighboring limestone caves collapsed. One of Malta's most famous sites, it has appeared in films and TV series such as Clash of the Titans and Game of Thrones.
A second, less well-known arch remains at nearby Wied il-Mielah.
You can share this story on social media: