Window-shattering giant super soaker invented by ex-NASA engineer (VIDEOS)
Published time: 12 Jul, 2017 15:22
Edited time: 13 Jul, 2017 08:12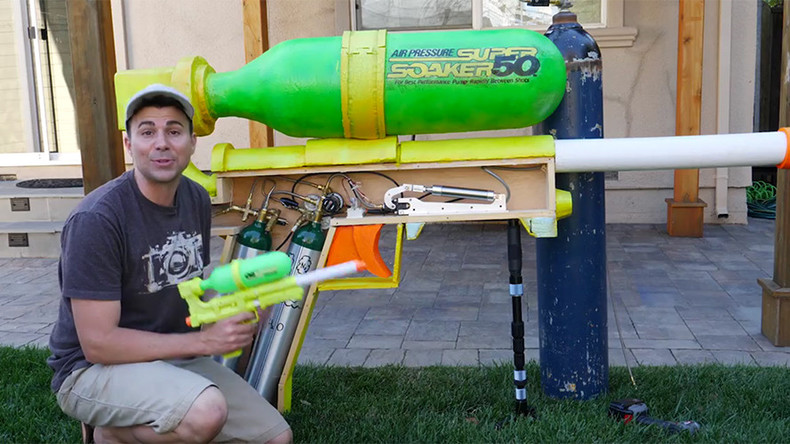 Notorious former NASA engineer Mark Rober has struck again, putting his incredible expertise to use breaking world records, and panes of glass, with an oversized and overpowered children's toy.
Rober's latest creation is officially the world's largest super soaker, according to the Guinness Book of World Records, and is capable of firing a jet of water at 272mph (437kph).
The jet of water is so strong that it can cut a watermelon in half and shatter panes of glass with ease.
The water gun works more or less the same as a regular super soaker, but with "fancier" parts says Rober: pressurized gas is pumped into a water chamber which then expels the water once the trigger is pulled.
However, on this much bigger scale, a few slight adjustments were required: Rober's oversized, 7ft-long version uses pressurized tanks of nitrogen gas to increase the power output.
Rober was kind enough to provide a detailed list of parts and CAD files for free should anyone wish to engage in an arms race with their neighbors this summer.
Given the power of the water gun, it's obviously not meant for use on live targets but it does have a nozzle that can fire at a lower pressure which is safe to use on humans – should you feel the need.
The former NASA engineer has a well-documented penchant for supersizing children's toys.
In the summer of 2016, he built the world's largest nerf gun, capable of firing foam darts at a speed of 40mph, with a maximum range of 390ft (118 meters) thanks to the pressurized gas tank borrowed from a paintball gun.
Rober has also been busy this summer producing the world's nicest car horn and a 'smart' dart board.