Frozen out: Swedish neo-Nazi's lose trademark fight with German deep-freeze company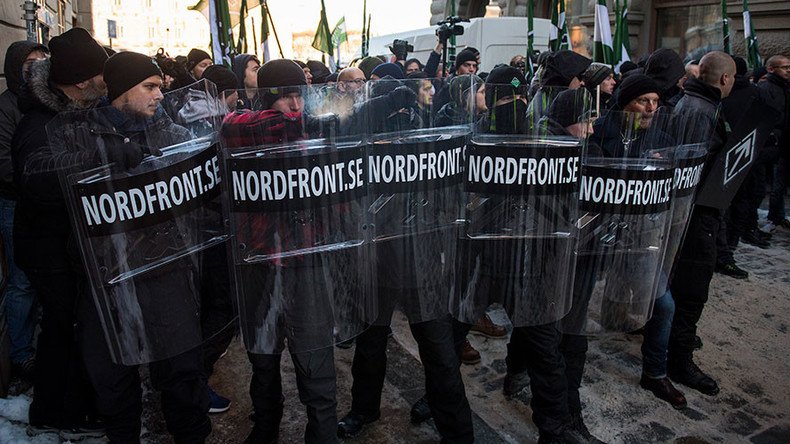 Swedish neo-Nazi group, the Nordic Resistance Movement (NRM), will no longer be allowed to use one of its names after a German company successfully challenged that their brand could be confused with the far-right group.
The NRM use the name 'Nordfront' on its website and on neo-Nazi promotional material such as fliers. The group also has the name emblazoned on riot shields they carry with them while on demonstrations and had registered the trademark with the Swedish Patent and Registration Office (PRV).
Following a complaint to the PRV by German deep-freeze company 'Nordfrost' the neo-Nazi group will now have to find another name for their website.
Nordfrost successfully argued that the names were too similar and that there was "an obvious risk that third parties will mistakenly get the impression that there is a commercial link," The local reports, citing the company's complaint.

READ MORE: Neo-Nazi's May Day march met with resistance in Sweden (VIDEOS, PHOTOS)
Last year was a record year for neo-Nazis in Sweden, with 3,064 documented activities carried out by such groups, according to Swedish anti-racism foundation Expo. That number represents the highest figure since Expo began carrying out yearly studies on far-right activities in 2008.
NRM was mostly responsible for the surge, according to Expo, with the spread of propaganda being their most popular activity. The neo-Nazi group is taking part in Sweden's annual Almedalen politics week taking place from July 2-9, after mistakenly being granted space at the event.

You can share this story on social media: