UAE crown prince 'asked US to bomb Al Jazeera,' leaked cable reveals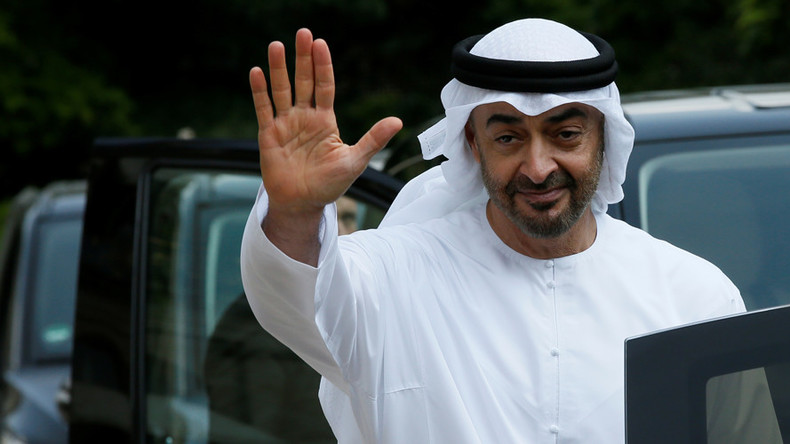 The crown prince of Abu Dhabi allegedly asked the US to bomb the offices of Al Jazeera prior to the invasion of Afghanistan, according to a diplomatic cable released by WikiLeaks.
READ MORE: Arab states want obedience from Qatar, alternative is parting ways – UAE minister
The document details a conversation between US diplomat Richard Haass and Sheikh Mohammed bin Zayed – referred to as 'MBZ' - in the lead-up to the invasion of Iraq in 2003. The royal urged Haass to control media coverage of the war and "emphasized the importance of reining in the Doha-based Al-Jazeera network prior to any military action."
The cable also details how the crown prince "laughingly recalled" a meeting between Qatari Emir Hamad Al-Thani and Sheikh Zayed bin Sultan, bin Zayed's father, before the US invasion of Afghanistan.
"Hamad complained about a report he had received that MBZ had asked General Franks to bomb Al-Jazeera. According to MBZ, Zayed derisively responded: 'Do you blame him?'" the leaked cable reads.
Now retired, US General Tommy Franks oversaw military operations across the Middle East as head of the US Central Command.
Al Jazeera has previously accused the US of targeting the station's outlets.
In November 2001, Al Jazeera's office in Kabul was destroyed by US bombers despite the news network telling Washington its location in the Afghan capital. There were no casualties in the incident.
At the time, chief editor Ibrahim Hilal said he believed the attack had been long-planned. US officials had criticized the outlets coverage of the war in Afghanistan, describing the reporting of the bombing campaign in particular as inflammatory propaganda.
"I still believe the decision to exclude our office from the coverage was taken weeks before the bombing," Hilal said. "But I don't think they would do that while we were the only office in Kabul."
In April 2003, a US missile struck Al Jazeera's offices in Baghdad, killing one member of staff and injuring another. A spokesman for US Central Command said at the time that Al Jazeera "was not and never had been a target."
Al Jazeera has more than 65 bureaus across the globe – including Doha, London and Washington DC – and broadcasts to more than 220 million households in over 100 countries.
You can share this story on social media: