Arab states want obedience from Qatar, alternative is parting ways – UAE minister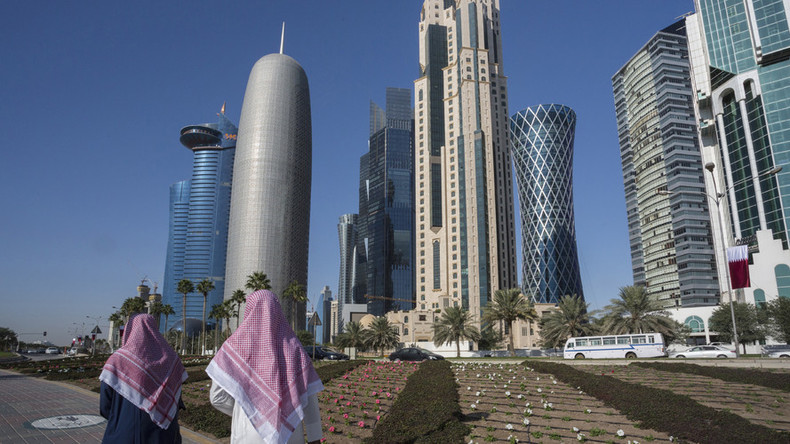 The Arab states which isolated Qatar earlier this month aren't seeking regime change in the country but rather, an attitude change and want all their recently delivered demands to be fulfilled by Doha, Anwar Gargash, UAE's foreign minister has said.
Saudi Arabia, Bahrain, the UAE, Egypt and several other nations suddenly announced that they were severing diplomatic ties and transportation links with Qatar on June 5, accusing the Gulf monarchy of financing terrorism and meddling in the internal affairs of other countries.
On Thursday, the four nations presented a rigid 13-point ultimatum to Doha, giving the country a ten day deadline to comply if it wants the air, land and sea blockade lifted.
Gargash told reporters that the Arab Gulf states are seeking "behavioral change" and not "regime change" from Qatar, AP reported.
Doha risks being banished from the Arab family if it fails to fulfill the demands of the quartet, he emphasized.
"The alternative is not escalation, the alternative is parting of ways, because it is very difficult for us to maintain a collective grouping," Gargash said as cited by Reuters.
The minister said a diplomatic solution remains a priority, but added, that Kuwait's mediation efforts were undermined by the leaking of the ultimatum's text.
AP has obtained a copy of the Arab demands "from one of the countries involved in the dispute," revealing that Qatar, among other things, is being pressured to cut ties with Iran, stop its support for Muslim Brotherhood and other radical groups, shut down its Al Jazeera broadcaster, close a military base housing Turkish troops on its territory and pay a fine.
"The mediators' ability to shuttle between the parties and try and reach a common ground has been compromised by this leak. Their success is very dependent on their ability to move but not in the public space," Gargash said.
READ MORE: Turkey has no intention of closing Qatar base despite Saudi ultimatum
During his news conference in Dubai, the minister didn't specify what additional measures could be implemented against Qatar, in addition to the already existing blockade, if Doha fails to institute their demands.
Qatar said on Saturday said that it was reviewing the list of demands, but underlined that it was only doing so "out of respect for our brothers in Kuwait," who delivered the ultimatum.
Director of Qatar's government's communications office, Sheikh Saif Al Thani, said the Arab quartet demands fell short of being "reasonable and realistic."
READ MORE: Saudi Arabia & allies demand Qatar close Turkish base, shut Al Jazeera & more within 10 days
He said it only confirmed that "the illegal blockade has nothing to do with combating terrorism, it is about limiting Qatar's sovereignty, and outsourcing our foreign policy."