Saudi Arabia & allies demand Qatar close Turkish base, shut Al Jazeera & more within 10 days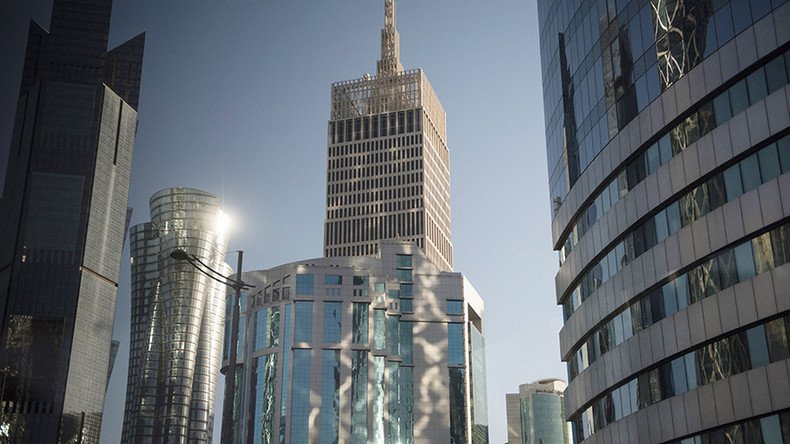 The Arab states which have imposed an economic blockade on Qatar over its alleged financing of terrorism have issued a severe list of demands, which includes giving Doha 10 days to cut ties with Iran, shutting down Al Jazeera, closing a Turkish military base and paying a fine.
UPD: Turkey has no intention of closing Qatar base despite Saudi ultimatum
The Kuwait emissary, which is serving a mediator in the diplomatic standoff, has reportedly presented the list of 13 demands from the Arab states to Qatar. Doha has 10 days to comply, according to Associated Press which has seen the list.
The ultimatum demands that Qatar abandon its cooperation with Iran, close down its military base where Turkish troops stationed and disbands its Al Jazeera news network.
The countries led by Saudi Arabia also demands Doha to cut all ties with terrorist organizations, including the Muslim Brotherhood, Islamic State (IS, formerly ISIS/ISIL) and Al-Qaeda. The list also demands that the monarchy stop funding all extremist groups designated as "terrorist" by the US.
The Gulf nations are also seeking detailed information about "opposition figures that Qatar has funded," AP said. In addition, Qatar must surrender all nationals who are wanted on terrorism charges by Saudi Arabia, United Arab Emirates, Bahrain and Egypt.
Saudi Arabia, UAE, Bahrain and Egypt severed relations with Qatar in early June, accusing their neighbor of sponsoring terrorism. Some other countries outside the Gulf region also downscaled ties and partially joined in imposing economic sanctions on Qatar.
READ MORE: Iran supplies 1,000+ tons of food to Qatar every day – media
Before Kuwait delivered the ultimatum, US Secretary of State Rex Tillerson cautioned that demands against Qatar need to be "reasonable and actionable."
"We support the Kuwaiti mediation effort and look forward to this matter moving toward a resolution," Tillerson said Wednesday.
This is the Kuwait emissary's second mission aimed at restoring diplomatic ties between Qatar and the Gulf Cooperation Council (GCC) nations.
During the previous attempt, Doha rejected the laid out preconditions, with Sheikh Abdulrahman Al-Thani who serves as the Qatari foreign minister, stating emphatically that no outside power can interfere with Doha's foreign policy or dictate its media politics. The Sheikh also made clear that Qatar could survive "forever" under sanctions.
The ongoing crisis was triggered in early June following a report on the state run Qatar News Agency (QNA) website, in which the country's Emir, Tamim bin Hamad Al Thani, criticizes Saudi Arabia's anti-Iranian rhetoric among other controversial statements. QNA immediately retracted what it termed "fake news," and following an investigation said the channel had been hacked by "neighboring" states which then used the QNA report as a pretext to impose the economic blockade.
As the crisis developed, Doha found itself increasingly isolated and dependent on aid from Turkey and now Iran. Both countries have sent food supplies to Doha, currently under a tough trade and travel blockade. Meanwhile, Ankara fast-tracked the ratification of an earlier sealed deal to send troops to the Gulf nation to train Qatar's police force.
With no resolution to the stalemate imminent, Washington has questioned the motives behind the punitive measures imposed on Qatar.
"Were the actions really about their concerns regarding Qatar's alleged support for terrorism, or were they about the long-simmering grievances between and among the GCC [Gulf Cooperation Council] countries?" State Department spokeswoman Heather Nauert asked Tuesday.
Since the start of the ongoing rift, Qatar has insisted that its innocent.
"Our government has maintained, from Day 1, that the blockade has nothing to do with the accusations that have been leveled against Qatar," Meshal bin Hamad Al-Thani, Qatar's ambassador to the United States wrote in a Washington Post op-ed Thursday.
"The allegations that Qatar supports terrorism and that Qatar is a secret ally of Iran are, as the State Department suspects, just a smokescreen for an attempt to infringe upon Qatar's sovereignty and punish Qatar for its independence," the ambassador wrote.
He called for negotiations to end the crisis, but accused the belligerent states of "seeking to drive a wedge between Qatar and the United States for their own political gain."
"Qatar has the right to chart its own course, without the interference of other nations, and that is what we can and will do. The door to the negotiating table will stay open," Al-Thani emphasized.
The envoy said the Saudi-led nations know all too well that Qataris "do not, have not and never will support terrorism," and accused Doha's detractors of orchestrating a "smear campaign" when it comes to accusations that Qatar is a "secret ally" of Iran. He added that Doha is providing support to Syrian rebels who are battling against the Syrian government and Iranian troops.
"The Saudis, the UAE and every government in the Gulf maintain diplomatic and trade relations with Iran," the ambassador pointed out. "In fact, Iran's biggest trading partner is the nation now leading the anti-Qatar blockade, the UAE."
You can share this story on social media: