Stephen Colbert announces 2020 presidential bid on Russian TV after a few vodkas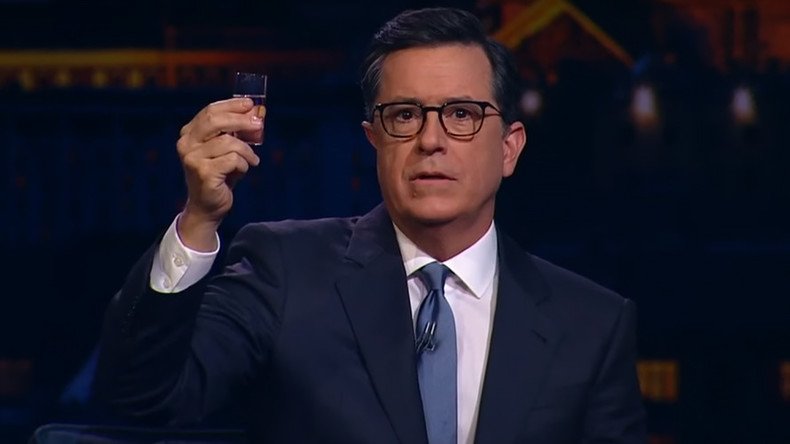 Late Show host Stephen Colbert announced his 2020 presidential bid on Russian TV after having a few shots of vodka. Apparently trolling Donald Trump, the comedian said he wanted to "cut out the middle man" and personally tell Russians about his ambitions.
Colbert joined the talk show Evening Urgant, which was aired on state Channel 1 on Friday evening. The comedian took part in what host Ivan Urgant called 'Russian Russian roulette', which was in fact tossing back shots of vodka and eating pickles.
While taking his first shot, Colbert made a toast to the "beautiful and friendly" Russian people.
"I don't understand why no members of the Trump administration can remember meeting you," he said sarcastically.
A couple shots later, Colbert asked Urgant if the show was going to be aired in America. Having made sure that it wasn't, he addressed his Russian viewers.
READ MORE: #Russiansdidit: Stephen Colbert latest 'hacking victim'
"I am here to announce that I am considering a run for president in 2020, and I thought it would be better to cut out the middleman and just tell the Russians myself," he said.
"If anyone would like to work on my campaign in an unofficial capacity, please just let me know," he added.
He concluded his pre-campaign speech saying "A strong America! A strong Russia!" to huge applause from the audience.
READ MORE: Was Colbert's attack on Trump homophobic, hysterical, or both?
On Thursday, Colbert posted a 'troll-style' reply to Trump's comments on alleged tapes or recordings of his conversations with ex-FBI director James Comey.
"Don't worry, Mr. President. I'm in Russia. If the 'tapes' exist, I'll bring you back a copy!" he said, posting a picture from Russia.
You can share this story on social media: