Man arrested for 'parading' pet lioness through Karachi streets (VIDEO)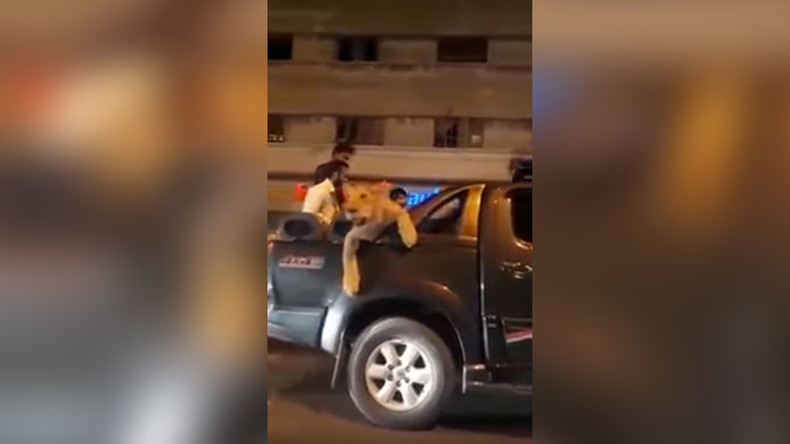 A Pakistani man has been charged with neglectful conduct with an animal for driving his pet lioness through the streets of Karachi, the country's most populous city, on the back of his pickup truck. The footage has rapidly gone viral.
READ MORE: 'Just a scratch': Lion attacks 15yo in middle of Russian city
Local pet dealer Saqlain Javed said he was making his way home after getting his lioness vaccinated when the footage was recorded, according to the Khaleej Times.
Shocked commuters filmed the animal as it casually lay in the back of Javed's truck, surrounded by cars and bustling pedestrians. The viral footage then sparked complaints from concerned citizens, leading to Javed's arrest Thursday.
At a bail hearing Javed's lawyer reportedly argued his client was a law-abiding citizen who had a licence for the pet. The overseeing judge granted Javed's release under the condition that he keeps the pet at home, and set his bail amount at Rs 20,000 (£242).
"We have freed the accused on bail but registered a case of negligent conduct with an animal,"said Muqadas Haider, a senior police officer.
READ MORE: Little girl attacked by tiger in Saudi Arabian market (VIDEO)
Police went on to say while Javed's personal zoo licence allows him to keep the wild animals at home, he is forbidden from bringing lions on city streets or near markets where they could endanger others.
"My only mistake was to keep the lion at the back of my vehicle in the open. In my house there is a large enclosure for the lion. The social media blew the incident out of proportion, which is why I was arrested," Javed told The Express Tribune.