Little girl attacked by tiger in Saudi Arabian market (VIDEO)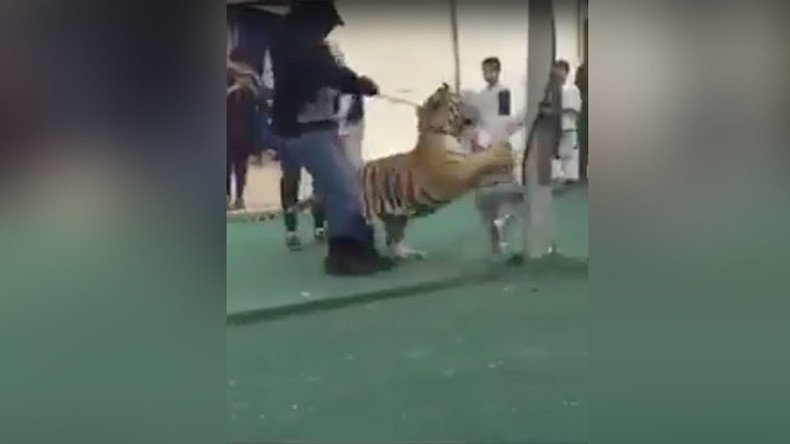 The shocking moment a young girl was attacked by a tiger at a market in northwest Saudi Arabia was captured on video, stirring outrage among people in the region.
Footage from the scene shows a tiger being walked around on a leash as entertainment in an open area near a market in Sakaka. A few children run away from the tiger as it prowls past them.
The little girl wanders over to take a look at the tiger, but gets too close. The tiger spins around and lunges at the girl, grabbing her in his big paws.
Within less than a second, the tiger has the girl pinned to the ground. The girl can be heard screaming loudly before the video cuts off.
Gulf News reports witnesses at the scene said the trainer managed to intervene and save the girl. Khaleej Times reports that a police inquiry is underway.
An update from Gulf Daily News reported that the tiger tamer was arrested after the girl's father filed a lawsuit against the tamer.
The shocking video has angered social media users who feel even if the animal was tamed it still was a dangerous situation.
@gulf_news Its totally reckless attitude by the owner. The tiger should be confiscated.....and the owner to be put into a zoo?????

— Jimmy Oceanray (@JOceanray) November 20, 2016
"This is a wild animal and its instinct is to attack, so regardless of the time spent taming it, its nature never changes and it's killing readiness remains strong," one Saudi user Khalid Al Mutairi commented. "All the necessary measures should be taken to ensure the highest levels of safety. Unfortunately, some people today look at keeping wild animals as a harmless fashion."
There have been a number of similar attacks in the Gulf States, largely due to the trend for keeping large wild animals as pets.
@gulf_news
Absolutely carelessness...how could it be so easy to let a child run close to the wild animal with no restrictions?

— بو سعيد بن إسماعيل (@ismaelsa1) November 20, 2016
In March, a Kuwait man died in Saudi Arabia after being attacked by a pet lion. He was trying to train the animal at the time. The lion was shot dead after the attack. attacked a man who was trying to train it visiting its owner after it managed to break free from its rope.
READ MORE: Tiger in Saudi Arabia attacks man after he tries to play with it (VIDEO)
In 2014, a cleaner died in Kuwait after being mauled by a pet lion in the house she worked at.
You can share this story on social media: