Phelps V Shark: Olympic legend 'will race great white' in TV special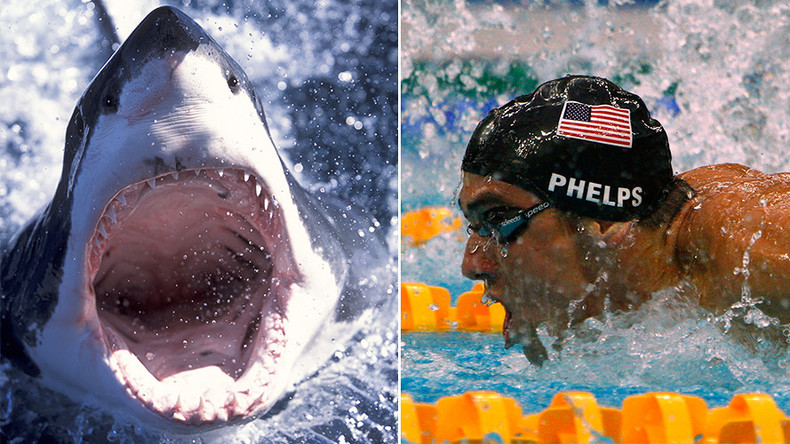 Olympic champion swimmer Michael Phelps has snatched victory from the jaws of defeat many times – but he's never snatched it from Jaws himself.
When swimming legend Phelps signed up to star in Discovery's 'Shark Week', it's doubtful he imagined he would end up racing one of nature's toughest predators, but that's exactly what he's lined up to do during the week-long TV event.
"They are one of the fastest and most efficient predators on the planet: Sharks. He is our greatest champion to ever get in the water: Michael Phelps. 39 world records. 23 Olympic golds," Discovery announced in a statement.
"But he has one competition left to win. An event so monumental no one has ever attempted it before. The world's most decorated athlete takes on the ocean's most efficient predator: Phelps V Shark — the race is on!"
The 23-time Olympic medallist provided a teaser of the event when he posted a photo of a shark passing a diving cage to Instagram Sunday.
It is not yet clear under what circumstances Phelps will race the shark.
The feat follows a long tradition of sports stars taking part in novelty races against animals and machines.
In December 1936, Jesse Owens, the man who humbled Hitler at that summer's Olympic Games in Berlin, took on a racehorse in Cuba. The race took place at half-time of a football game in Havana.
Rugby star Bryan Habana took on a cheetah during a charity event in October 2007. Habana, who could run the 100 meters in 11 seconds, was more than a match for the big cat, narrowly crossing the line before it.
Footballer Cristiano Ronaldo took on a Bugatti Veyron for a Nike commercial in 2008 – and the Portuguese star even gave the supercar a run for its money.