Gonna need a bigger boat: 9ft great white shark leaps into fisherman's vessel (PHOTOS)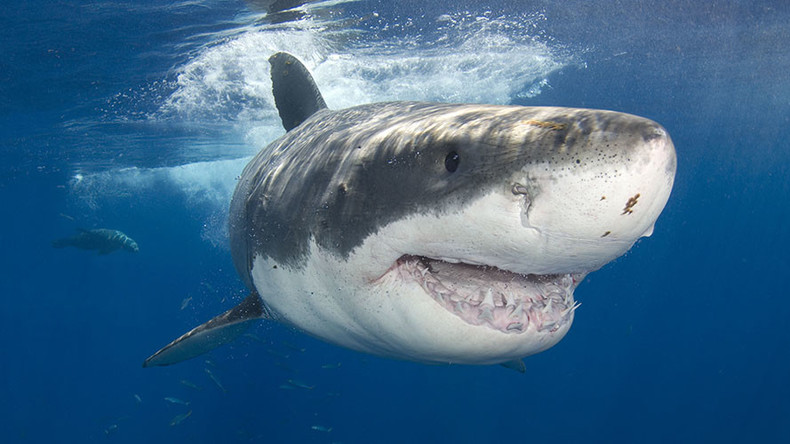 A 73-year-old Australian fisherman claimed his most spectacular catch when a ferocious great white shark leapt right out of the ocean – and into his boat.
Terry Selwood was fishing offshore on the north coast of New South Wales, Australia, on Saturday when the shark, measuring 2.7 meters (9ft) in length and weighing about 200kg (440lb), launched itself into his small boat.
And, terrifyingly, with the boat measuring just 1.4 meters across and 4.5 meters in length, there wasn't enough room for both of them.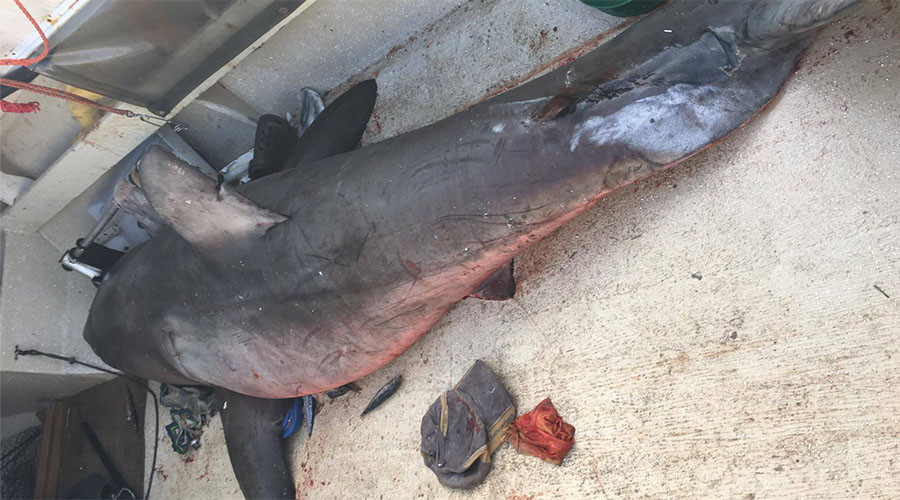 READ MORE: Shark takes bite out of fisherman's leg after crazy attempt to lasso its tail (VIDEO)
"I caught a blur of something coming over the boat … and the pectoral fin of the shark hit me on the forearm and knocked me down on the ground to my hands and knees," Selwood told ABC.au.
Selwood estimates the shark jumped about four feet into the air to clear the top of his motor.
"There I was on all fours and he's looking at me and I'm looking at him and then he started to do the dance around and shake and I couldn't get out quick enough onto the gunnel," Selwood explained.
Selwood began losing "a fair amount of blood" as the shark thrashed around on the boat and tore the skin off his arm: "I thought he'd broke my arm to be honest. People said I'd been bitten by a shark but he didn't, he just hit my arm [and] because sharks have very rough skin, he just tore the skin off it".
Selwood, who has been fishing for nearly 60 years, eventually managed to reach for his radio and call the local marine rescuers for help.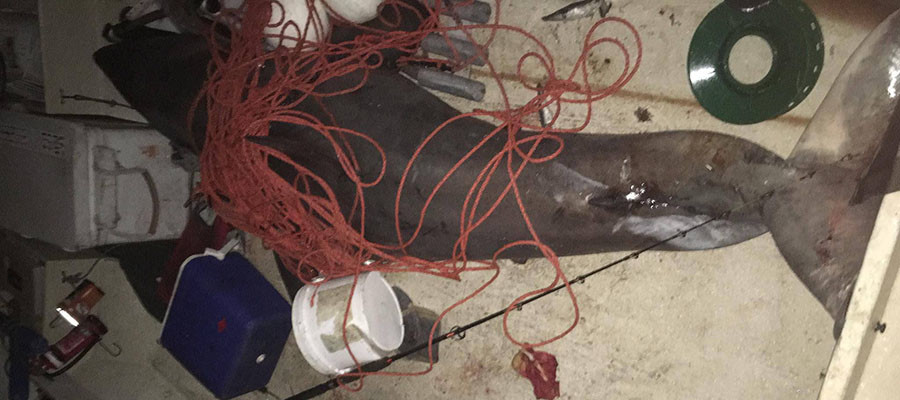 Local authorities used a forklift to remove the, by then dead, shark from the recovered boat and will perform an autopsy to confirm its age and gender.
READ MORE: Porn star bitten by shark as underwater photoshoot goes drastically wrong (GRAPHIC VIDEO)
Selwood added that there's "no way in the world" the experience would deter him from fishing again.
"Well I'll be buggered, there's a shark in my boat!" Terry Selwood tells us how a 200kg great white shark ended up in his fishing boat. pic.twitter.com/HabXaDezkt

— ABC News (@abcnews) May 28, 2017
"But really, it's not a great story, it's just a mundane thing that just happened and it's over and done with, but something that I'll remember."
"But we're all well and now I'll just get on with life and repair the damage he made to my boat."