Shark takes bite out of fisherman's leg after crazy attempt to lasso its tail (VIDEO)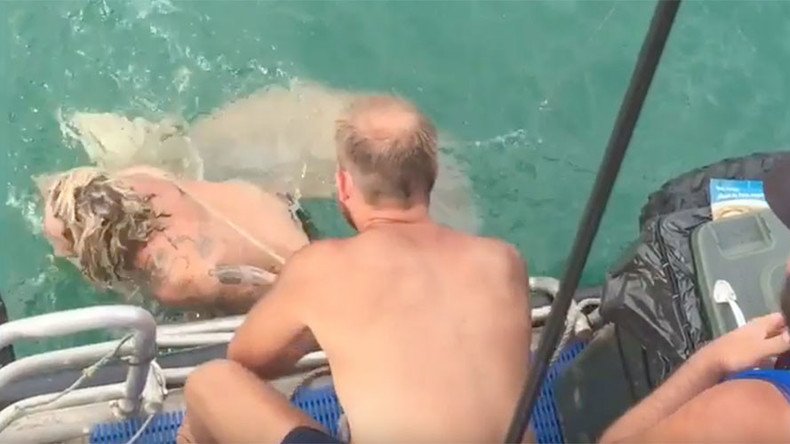 An Australian fisherman was lucky to escape with only a flesh wound after recklessly attempting to wrestle a shark.
Josh 'Ferret' Neille was fishing off the coast of Queensland, Australia, when he inexplicably tried to lasso a 9ft (2.7 meter) shark swimming in open water.
READ MORE: Porn star bitten by shark as underwater photoshoot goes drastically wrong (GRAPHIC VIDEO)
Footage of the incident filmed from Neille's boat and posted to YouTube last week shows the fisherman, cheered on by a group of friends, diving into the water alongside a shark loitering nearby. The fearsome creature soon turns frantic when Neille tries to grab hold of its tail.
The ridiculous stunt soon goes awry when the shark sinks its teeth into Neille's leg.
In the clip, the fisherman can be heard screaming in pain and shouting to his companions: "It's bit me, f***!"
"After a battle for 15 seconds I found [myself] locked in the shark's jaws as it thrashed a chunk from the top of my right thigh," said Neille, posting online.
"I was lucky not to loose my sea cucumber instead. It was a quick and regrettable decision that I realize was a stupid move."
The group later caught and killed the shark before posing for photographs with its carcass. Neille was treated for his gruesome injury at the nearby Weipa Hospital.
You can share this story on social media: