Porn star bitten by shark as underwater photoshoot goes drastically wrong (GRAPHIC VIDEO)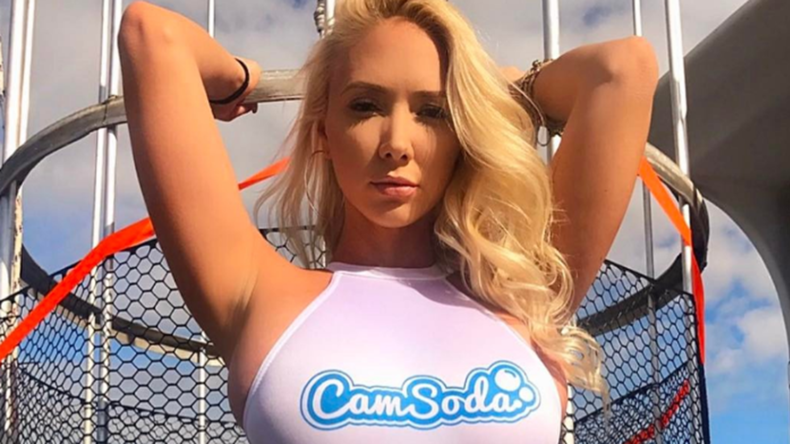 A porn actress was lucky to escape with her life after being bitten by a shark during a bizarre underwater photoshoot.
Molly Cavalli was wearing nothing but a white swimsuit when, within the seemingly safe confines of a cage, she descended into the shark infested waters off the coast of Florida.
Video footage posted on adult entertainment company CamSoda's YouTube channel shows Cavalli frolicking on the deck of a boat before entering the flimsy-looking cage, which is rigged with cameras to capture the action.
Soon Cavalli's foot is bitten by one of the lingering sharks. She quickly scrambles for the safety of the boat, leaving a plume of red blood in her wake.
CamSoda, the firm behind the stunt, revealed that the actress needed 20 stitches after receiving a nasty bite from a lemon shark. "Don't worry though, Molly is doing just fine," they said.
Not everyone is convinced by the video's authenticity, however, with a number of YouTubers branding it "fake" and a "publicity stunt."
"Hair got dry pretty quick when she apparently just got out of the water," one internet sleuth commented. Another described the cut as "terrible makeup."
Speaking to the Daily Mail, Darren Press of CamSoda said: "Our intention was to have Molly quickly dive into the shark cage with the camera and begin broadcasting as lemon sharks circled nearby. From what we gathered, lemon sharks are predominantly docile and relatively harmless.
"During the broadcast, a shark approached the cage which made Molly nervous. She swam up to the surface as the shark approached. Her foot rose above the protective net and was bitten."
The actress took to Instagram to give an update on her recovery, saying that she was "totally fine. It's not as bad as it seems. Im healing quickly. It was still an amazing experience."
You can share this story on social media: